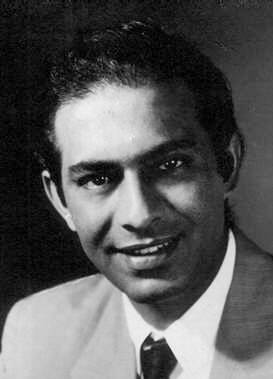 The 50's was the era of the Singing Star. America had Elvis Presley, England had Cliff Richard and India had Talat Mahmood ! Handsome, good looking men with fantastic voices and a distinguished style of singing that was all their own. The mere mention of their names on the silver screen was enough to pull in female crowds looking for gentle romantic fare, with clean cut story lines. Whether Elvis, Cliff or Talat, these singers were packaged and presented on the silver screen with the utmost of care. Nothing was left to chance. For them, it was nothing but the biggest producers, the biggest banners, the topmost heroines and of course, hand picked music composers to create those scintillating musical scores !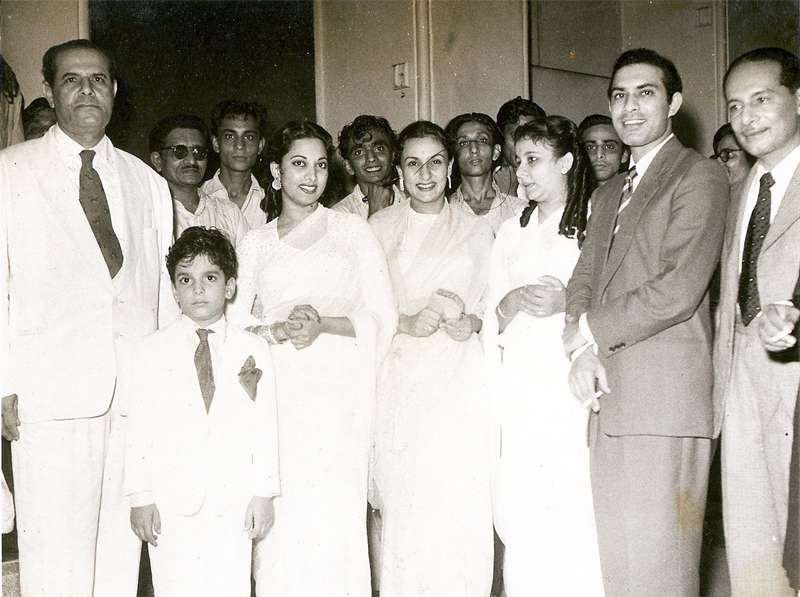 Producer Sohrab Modi, Suraiya, Nadira, Mrs Talat, Talat Mahmood
and Director Nitin Bose at premiere of 'WARIS'

*** When producer Sohrab Modi (the Cecil B. DeMille of Indian Cinema) conceived the film 'WARIS' for the reigning singing superstar Talat Mahmood, he decided to bring in the highly respected Director Nitin Bose, renowned for introducing playback singing to Indian Cinema and later for directing the great Dilip Kumar's magnum opus 'Ganga Jamuna'. Not just one, but two top heroines were signed up to play the lead opposite Talat Mahmood - Suraiya, the highest paid heroine of her time and the beautiful Nadira ! Apart from being the top stars of the day, they were also great fans of this handsome singer and welcomed the chance to team up with the Ghazal King. 'WARIS' of course, was a hit!
*** Talat Mahmood starred with the actress par excellence, Nutan, in Sone Ki Chidiya. Nutan always referred to Seema and Sone Ki Chidiya as her careers two most memorable films !
*** Famous producer - director A.R. Kardar, signed up Talat Mahmood for his musical venture Dil e Nadaan. An all India beauty contest was then launched to find a heroine to star opposite mega star Talat Mahmood for this film ! The winner was lovely Peace Kanwal. After acting in Dil e Nadaan, she got married to a well known industrialist and gave up acting completely.
*** Talat Mahmood starred in the 1957 hit Ek Gaon Ki Kahani with the lovely Mala Sinha as heroine, directed by well known director Dulal Guha and produced by Satyen Bose ( who has also produced one of the biggest hits and highest box office grossers of all time - 'Dosti' )
*** Producer S.U. Sunny, who had earlier made the Dilip Kumar starrers Babul and Udan Khatola, cast the striking singer-duo of Talat Mahmood and Suraiya for his film Maalik.
*** Despite the presence of Dev Anand and Madhubala in Araam, the star appeal of Talat Mahmood was used to boost the box office ratings of the film !
*** Director Nitin Bose, whose credits include the great Dilip Kumar's magnum opus Ganga Jamuna, directed Talat Mahmood in Waris !
*** At a Suraiya retrospective in Mumbai in 1994, a much-acclaimed film was the late Sohrab Modi's Waris. This film starred handsome Talat Mahmood as hero.
_____________________________________________________________________________
STAR STUDDED PREMIERE
OF 'DIL E NADAAN'
A star studded premiere was held for Talat's film 'Dil e Nadaan' and film industry friends from Dilip Kumar to Raj Kapoor turned up to wish the reigning superstar Talat Mahmood all the very best!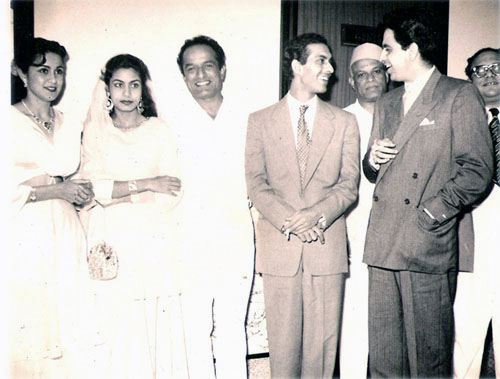 Peace Kanwal, Nimmi, V Shantaram, Talat, Dilip Kumar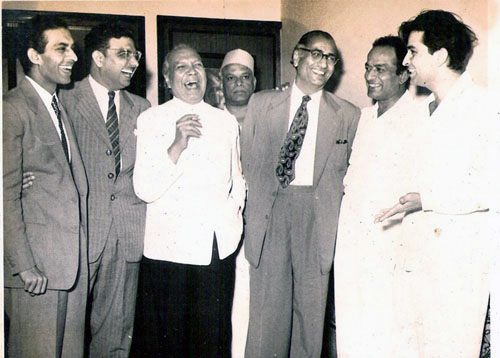 Talat, Karan Dewan, Dewan Sharar, producer of 'Dil e Nadaan' A R Kardar,
V Shantaram and Raj Kapoor