FAMILY ALBUM - 2

KHALID MAHMOOD MARRIES REENA PANDE


The Mahmood and Pande family seen together at the marriage ceremony.


FAMILY FRIENDS DROP IN TO WISH REENA & KHALID.....


Close family friend Manna Dey with
Khalid & Talat


Puneet Issar and wife drop in to wish
Reena and Khalid


Close family friend super-model Noyonika Chatterjee
enjoying herself at the marriage celebration


The made-for-each-other couple enjoying the attention of family and friends !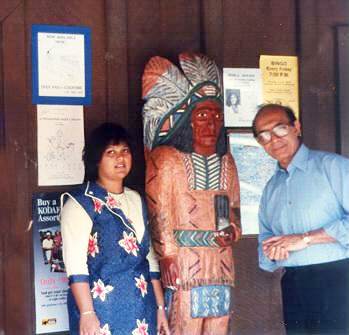 Talat Mahmood seen with daughter-in-law Reena outside a speciality store in Sedona, USA
_______________________________________________________________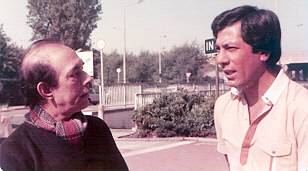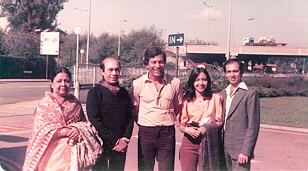 On his concert tour of England in 1979, Talat's lunch in his hotel's dining room was very gently but politely interrupted by a man tapping him on his shoulder and saying, " I am sorry to disturb you Talat Sahab, but I have been your fan all my life and it is indeed a great honour for me to have this unexpected chance of meeting you here ". And Talat Mahmood found himself looking up into the warm, respectful eyes of none other than Zaheer Abbas, considered by many to be the world's most stylish and graceful cricketer ! In turn, an amazed Zaheer Abbas was thrilled to learn that this great singer was an ardent cricket lover and a great fan of Zaheer's !
Nasreen, Sabina and Khalid join in for a photo with this cricketing great.

---

TALAT MAHMOOD'S 70th BIRTHDAY AT HOME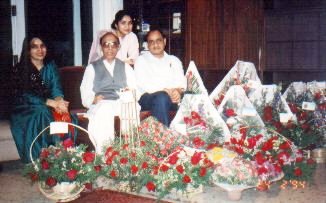 Fans who became close friends of the family ! On Talat Mahmood's 70th birthday,
close family friend Mr. V.N. Deshmukh (Joint Director of Intelligence Bureau),
Mrs. Deshmukh and their daughter Rohini share their love and respects for one of the
greatest singers the century has ever produced !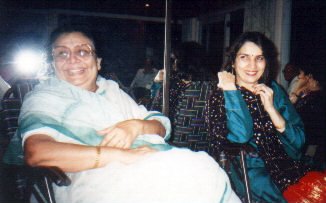 Mrs. Talat Mahmood and Mrs. V.N. Deshmukh enjoying a joke at the party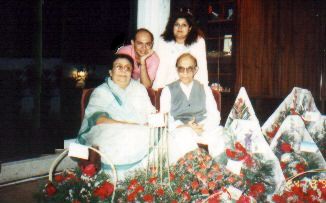 At the same party, Talat with wife Nasreen & son Khalid & Isha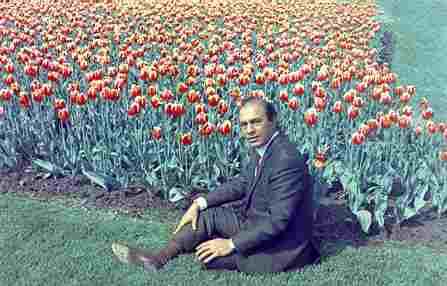 Talat loved nature and his beautiful British style sea front villa in the posh 'Queen of Suburbs' Bandra locality
in Mumbai at one time had one of the most beautiful gardens in the city !
---

TALAT IN ARIZONA, USA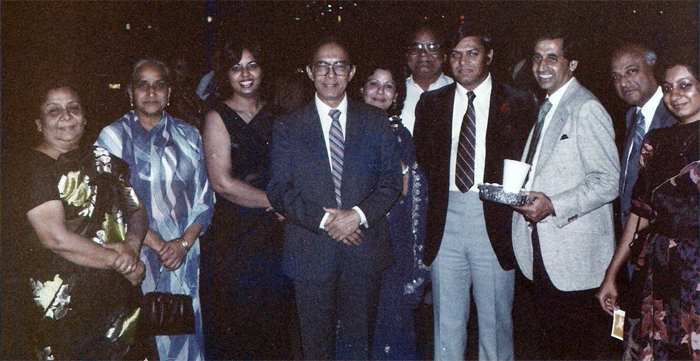 Talat and Nasreen at the post concert party to celebrate his stupendously
successful show in Phoenix, Arizona, USA,
__________________________________________________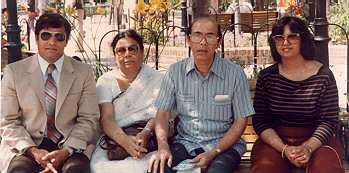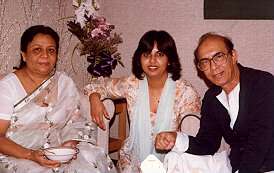 Javed, Nasreen, Talat & Anjum Anjum with 'Mom' & 'Dad' in their Phoenix hotel room
Anjum and Javed with their children Asma and Basil, were a successful couple living in Phoenix, Arizona. Being music lovers and in particular, Talat Mahmood fans, they were thrilled when the Phoenix concert promoters offered them a once-in-a-lifetime chance to look after Talat and his family whilst on his Phoenix leg of the tour. They started out a little apprehensive about how this great living legend would react to them, but on meeting him, they were completely floored ! His simplicity, charm, grace and old world chivalry just took their breath away and completely swept them off their feet ! They could not believe that a man this famous could be so down to earth, simple and humble in his daily life. Anjum, who had lost her father, told Talat that she felt the same love and respect for him as she had for her own father and from that day called him 'Dad' and Nasreen 'Mom'. True to her word, Anjum and Javed looked after Talat and family like their very own. At their request, the following year, Talat and family even stayed at their lovely Phoenix home for a few days. In the coming years Anjum and Javed with their kids flew down to Mumbai to spend time with 'Dad' and 'Mom' and were Talat's honoured guests staying with him at his beautiful seaside terraced penthouse apartment in Bandra, Mumbai.

Talat, Khalid, Reena with Anjum, Asma & Basil in Arizona, USA

Talat and Javed, outside the
'Ceasars Palace' in Las Vegas



Talat Mahmood with Arizona show promoters Javed, Nafisa & Abdul.


Anjum in a keepsake photo with Khalid


Anjum and Reena out shopping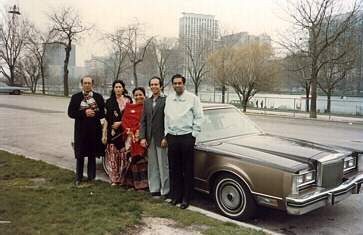 Talat, Nasreen and Khalid in 'Windy City' Chicago,
with show promoter Khan and his lovely wife
---
TALAT & KHALID IN HOLLAND

Talat's Holland Concert Tour was sponsored by Roshan Asgharali, whose entire family is a big Talat fan !
Seen clockwise - Mrs. Asgharali welcomes Talat to their video store, the largest of it's kind in Holland;
Their son congratulates Khalid on a wonderful performance the night before; Khalid and Talat then join
the Asgharali's to a lovely dinner at their house in Den Hague; Their daughter joins in for a photo too.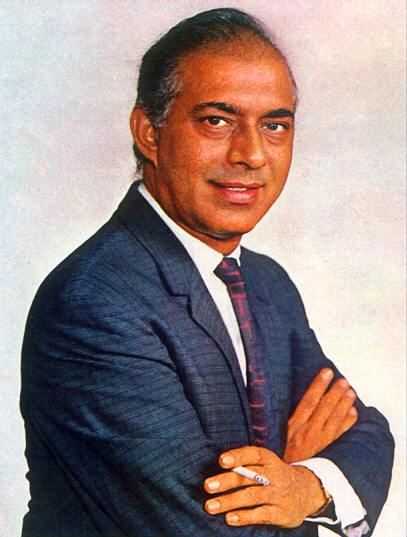 ---
KHALID MAHMOOD SINGS!
TALAT FANS PACKED THE HALLS TO LISTEN TO KHALID MAHMOOD SING HIS LEGENDARY FATHER'S HITS IN 'EK SHAAM TALAT MAHMOOD KE NAAM' CONCERTS AROUND THE WORLD!!!

SEE THE 2 ALL-NEW FULL LENGTH VIDEOS BELOW!!!


'EK SHAAM TALAT MAHMOOD KE NAAM'
BOSTON, USA




'EK SHAAM TALAT MAHMOOD KE NAAM'
HYDERABAD


CLICK HERE TO GO TO VIDEO PAGE !!!