KHALID MAHMOOD SINGS!
TALAT FANS PACKED THE HALLS TO LISTEN TO KHALID MAHMOOD SING HIS LEGENDARY FATHER'S HITS IN 'EK SHAAM TALAT MAHMOOD KE NAAM' CONCERTS AROUND THE WORLD!!!

SEE THE 2 ALL-NEW FULL LENGTH VIDEOS BELOW!!!


'EK SHAAM TALAT MAHMOOD KE NAAM'
BOSTON, USA




'EK SHAAM TALAT MAHMOOD KE NAAM'
HYDERABAD


CLICK HERE TO GO TO VIDEO PAGE !!!
---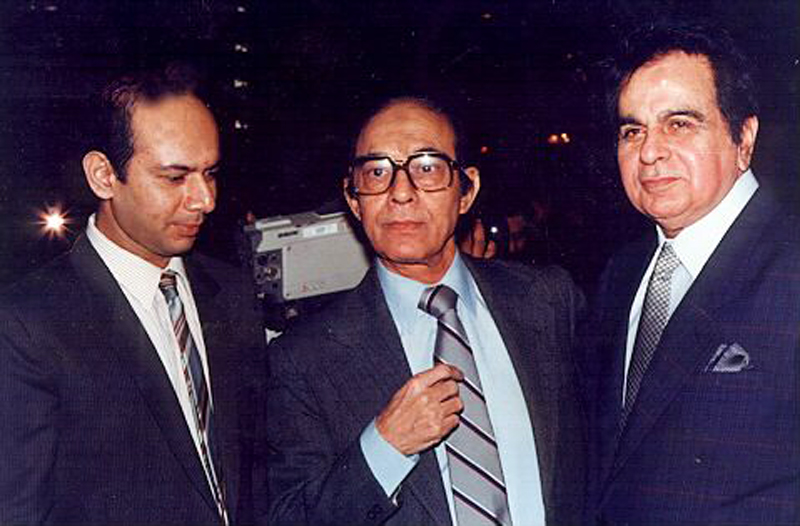 KHALID, TALAT MAHMOOD, DILIP KUMAR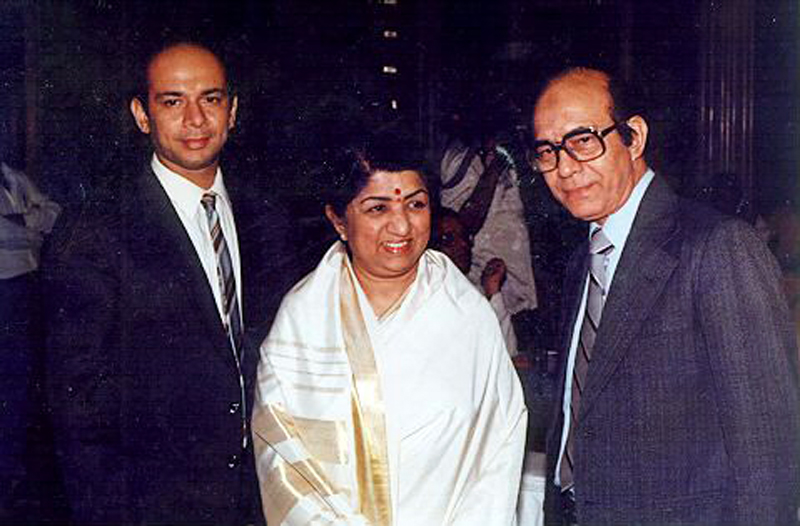 KHALID, LATA MANGESHKAR, TALAT MAHMOOD

---
KHALID WITH CELEBRITIES!!!

Popular singer KHALID MAHMOOD is at the most exclusive party in town
in the company of superstars, politicians, industrialists and socialites!!!
"THE LEELA HOTEL" PARTY - Mumbai (JAN 2012)

Udhav Thakeray with Khalid Talat Mahmood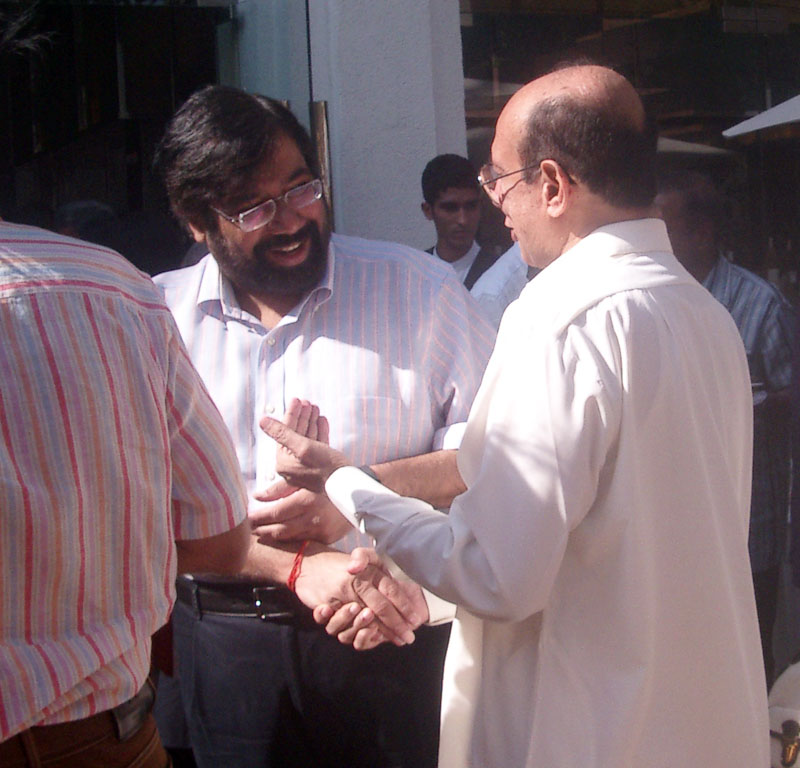 Industrialist and SAREGAMA owner Harsh Goenka with Khalid Talat Mahmood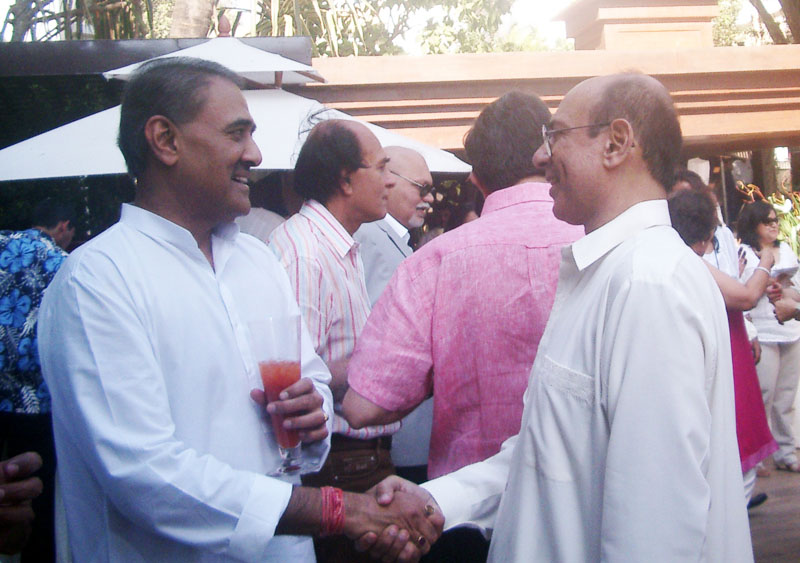 Aviation Minister Praful Patel with Khalid Talat Mahmood

Priya Dutt with Khalid Talat Mahmood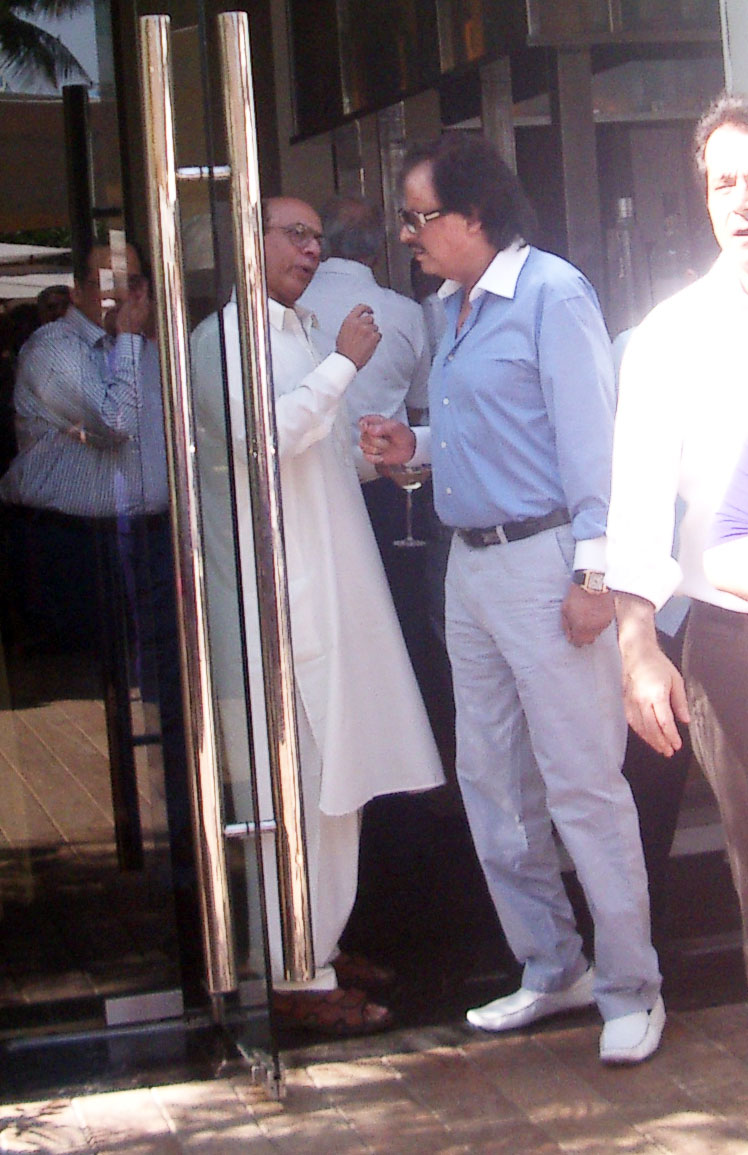 Filmstar Sanjay Khan with Khalid Talat Mahmood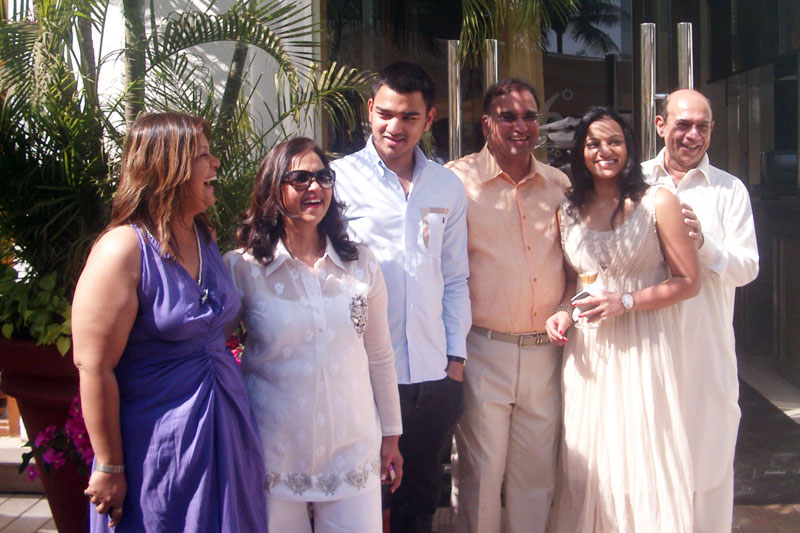 From left: Khalid's wife Ísha Mahmood, owners of "Hotel Leela" Lakshmi Nair,
Aushim Nair, Vivek Nair, Amrudha Nair and Khalid Talat Mahmood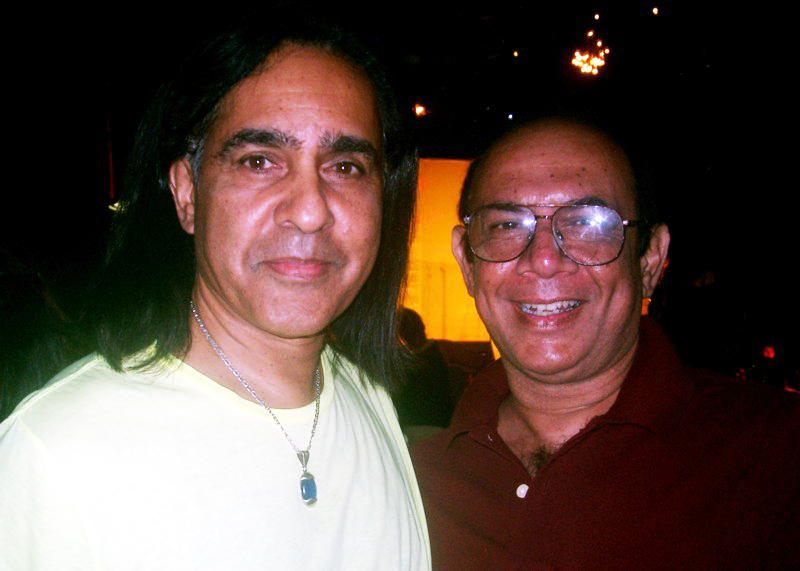 Khalid meets Biddu in Mumbai after Biddu's concert. Biddu is the man who
took India into the Disco Pop age with Nazia Hassan's DISCO DEEWANE and several International chart toppers like Tina Charles and Carl Douglas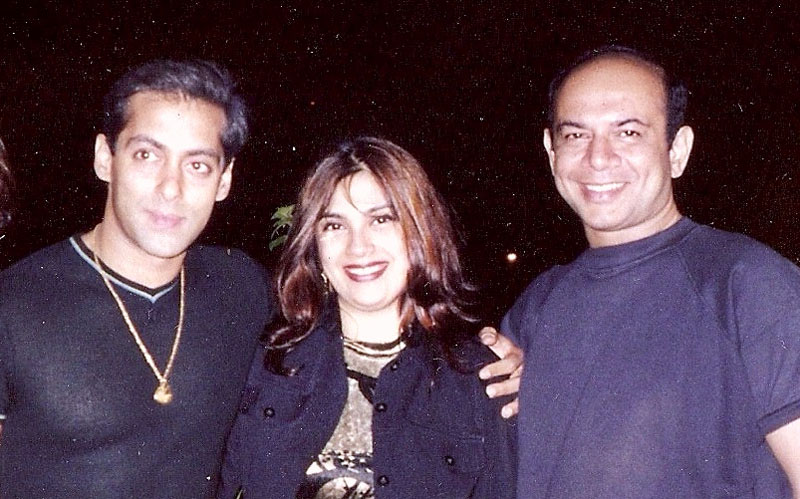 Superstar Salman Khan, actress Priyanka Timmins and singer Khalid Talat Mahmood

AT SALIM KHAN SAHAB's HOUSE IN BANDRA, MUMBAI
Left to right: V.N. Deshmukh (Mumbai's ex Director General of Police), Salim Khan and Khalid
Salim Khan sahab told Khalid: "In the early years of my struggling days, when I had come to Mumbai and had
rented a place very close to Talat sahab's beautiful bungalow. I would pass by his house hoping to catch sight
of him sitting in his lawns. Talat sahab spelt class and I was always a big fan of Talat sahab!"
Both V.N. Deshmukh sahab and Salim Khan sahab were very appreciative of the fact that Khalid was single handedly, tirelessly and selflessly carrying on the work of digitally restoring all of his father Talat Mahmood's work, (audio and video) and setting up a website for the first time ever on any singer!
______________________________________________________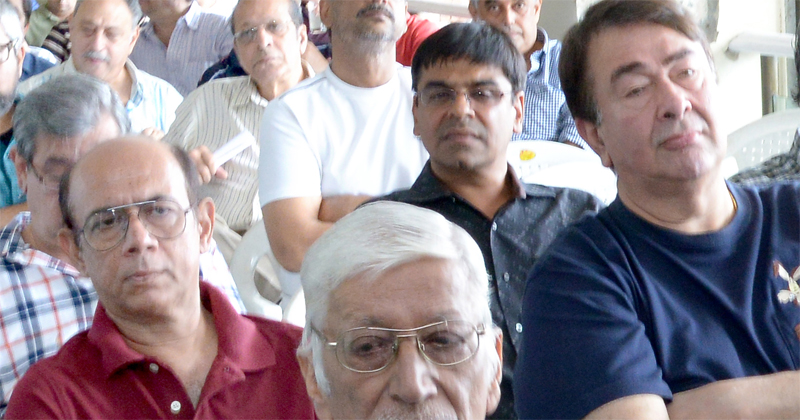 Scions of the Film Industry's Legendary and most popular Stars!
Khalid Talat Mahmood and Randhir Raj Kapoor seen at the most exclusive/members
only OTTERS CLUB in Mumbai
---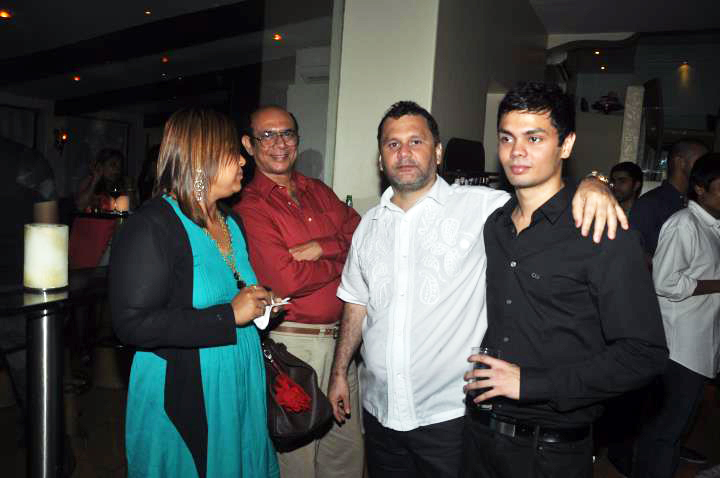 Andre Timmins (owner of IIFA Awards and famed for bringing the
reclusive superstar 'MICHEAL JACKSON IN CONCERT' to Mumbai) and
Priyanka Timmins threw a party for their handsome goodlooking son Leslie.
The line of cars outside the restaurant was a mile long - as the glitterati of
the city was in attendance!
---
KHALID HAS APPEARED ON THE TOP NATIONAL AND INTERNATIONAL TV CHANNELS AND PROGRAMS TALKING ABOUT HIS LEGENDARY FATHER!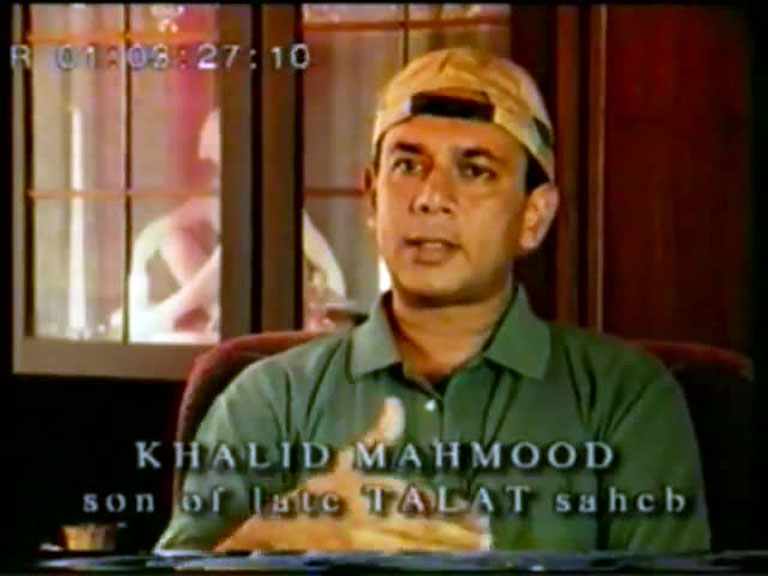 DOORDARSHAN CHANNEL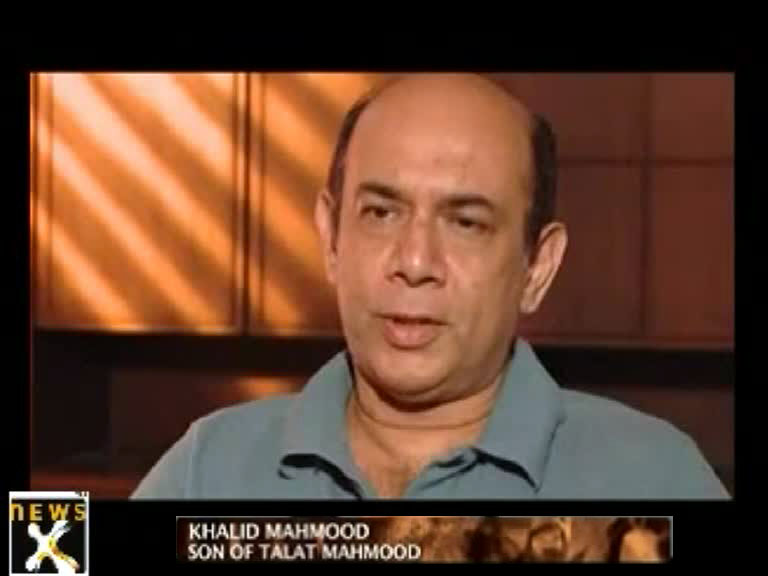 "FLASHBACK - TALAT MAHMOOD" (NEWS-X CHANNEL)



"TOTAL RECALL - SHAMSHAD BEGUM" (TIMES NOW CHANNEL)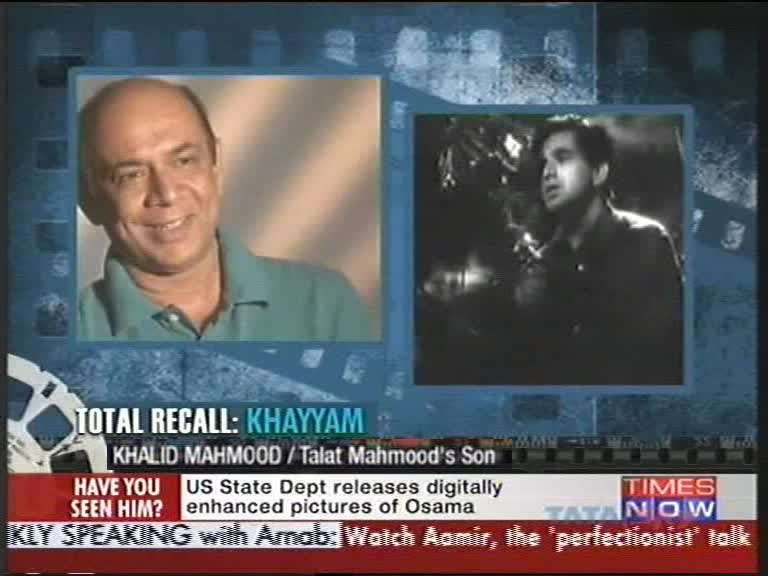 "TOTAL RECALL - KHAYYAM" (TIMES NOW CHANNEL)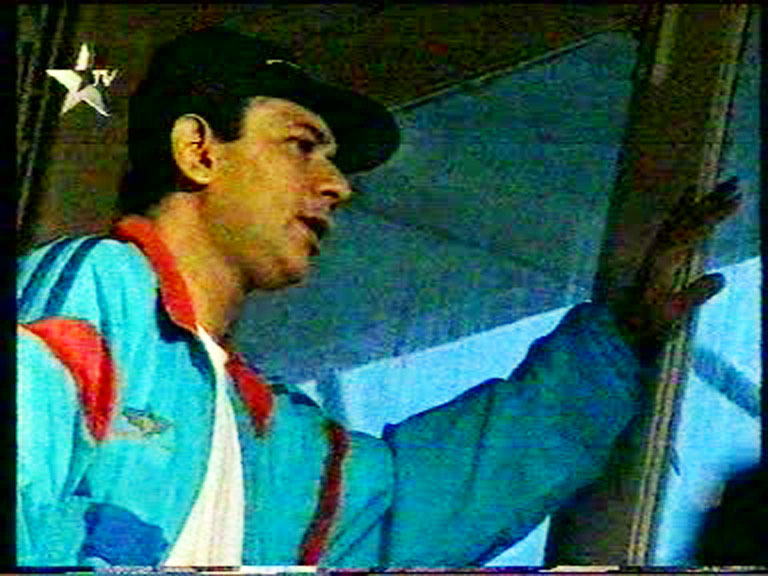 "SINGING FATHERS SINGING SONS" (STAR TV CHANNEL)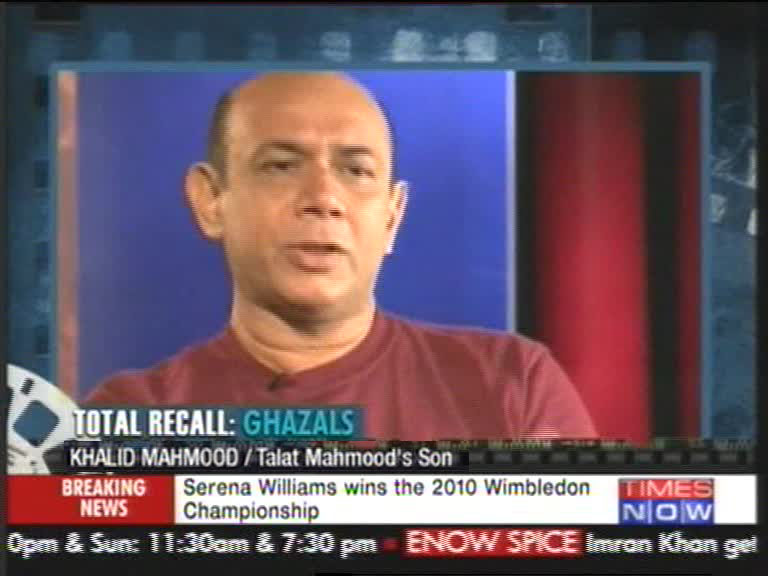 "TOTAL RECALL - GHAZALS" (TIMES NOW CHANNEL)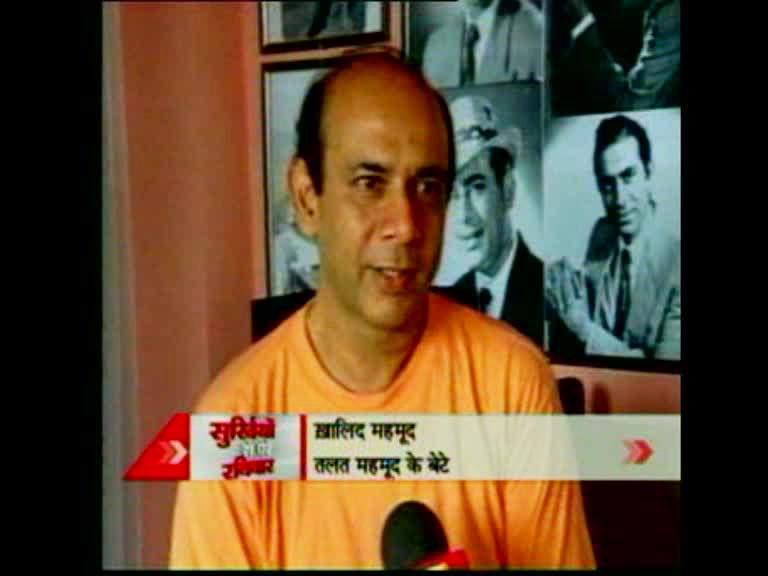 "REMEMBERING TALAT MAHMOOD" (ZEE TV CHANNEL)


"TOTAL RECALL - TALAT MAHMOOD" (TIMES NOW CHANNEL)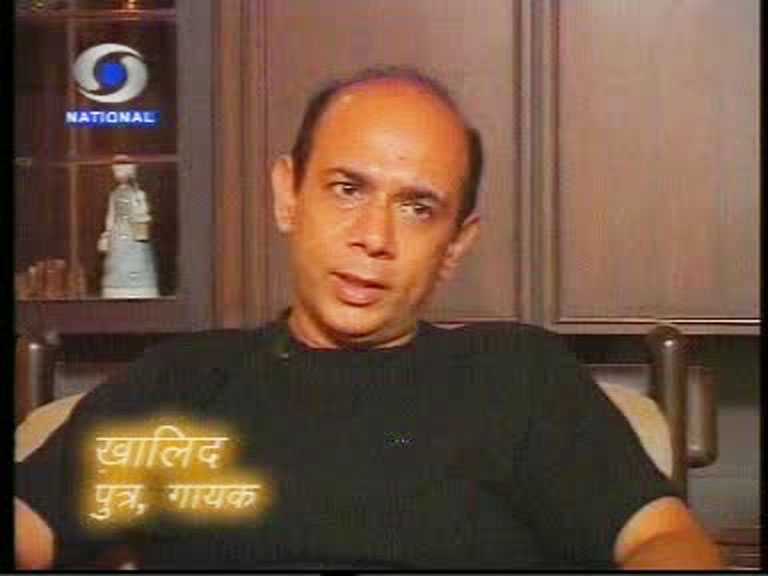 "YAADEN - TALAT MAHMOOD" (DOORDARSHAN CHANNEL)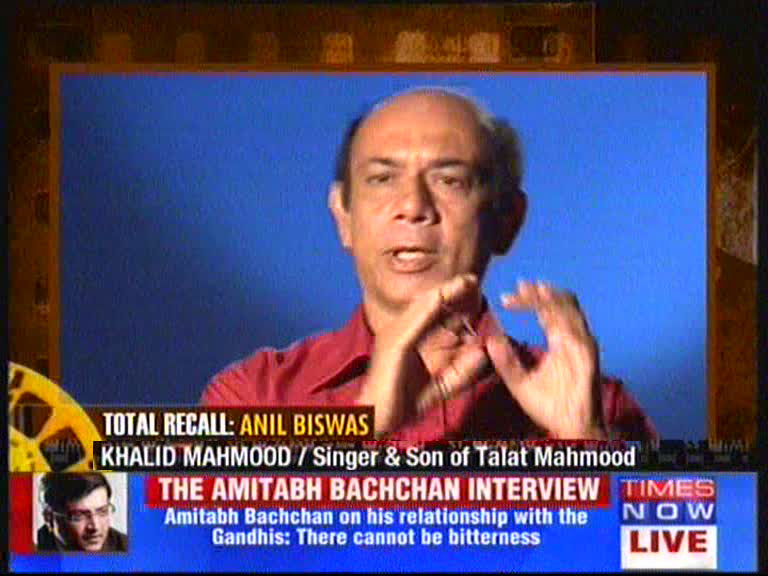 "TOTAL RECALL - ANIL BISWAS" (TIMES NOW CHANNEL)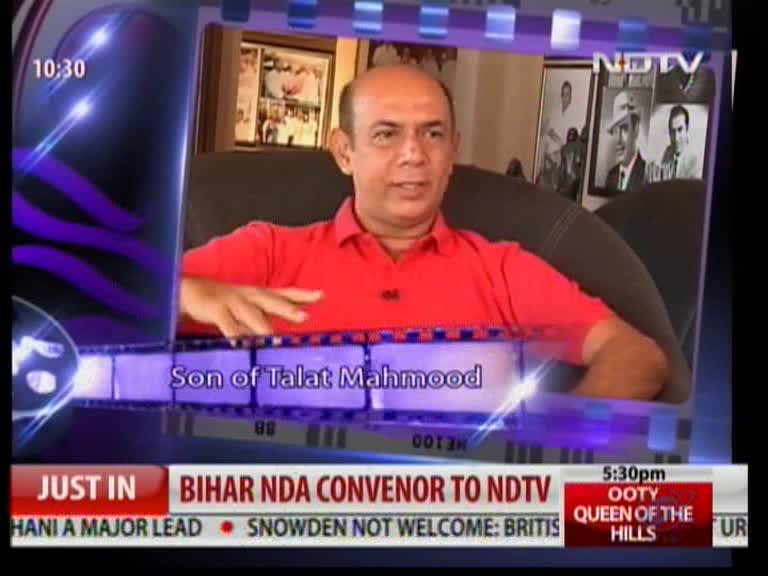 'KING OF GHAZALS' - TALAT MAHMOOD ( NDTV CHANNEL)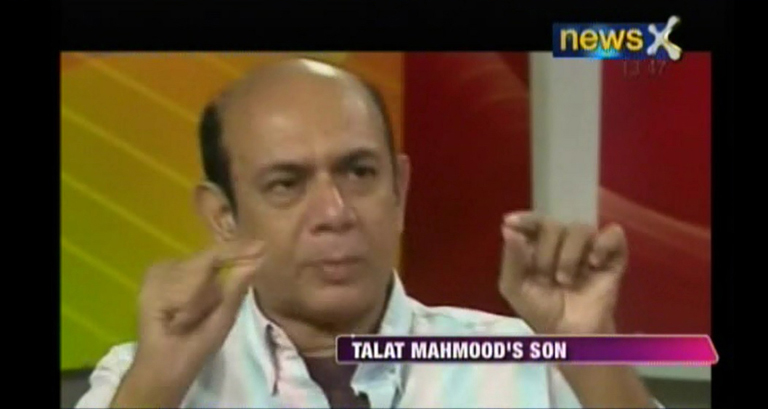 "MUSIC DIRECTOR KHAIYAM" (NEWS-X CHANNEL)
---

'YAADEN - TALAT MAHMOOD'
BJP leader Shri L.K. Advani ji's daughter Pratibha Advani's personal letter of thanks to Khalid with a presentation of the master copy of the video 'YAADEN - TALAT MAHMOOD'.

Khalid had accompanied his father to Rashtrapati Bhavan in Delhi in 1994, where his father 'KING OF GHAZALS' Talat Mahmood was to receive the prestigious Padmabhushan Award from the President Of India. Congratulating Talat Mahmood at Rashrapati Bhavan L.K. Advani ji told Talat "Talat ji, all of us are your big fans, but the biggest fan of yours in my family is my daughter Pratibha!" He called Pratibha over and she was thrilled to get Talat to sign his autograph in her personal diary!

"YAADEN - TALAT MAHMOOD" produced and anchored by Pratibha Advani in 2005 has been called one of the most complete, endearing and heartfelt documentaries on the 'KING OF GHAZALS' Talat Mahmood. Pratibha then also sent a personal invitation requesting Khalid to join her in Mumbai in Grand Hyatt Hotel for drinks and dinner in the company of BJP bigwigs and media giants like Prasoon Joshi, stars like Shatrughan Sinha, Hema Malini and others. Khalid congratulated Pratibha on the wonderful work she has done to preserve India's film heritage!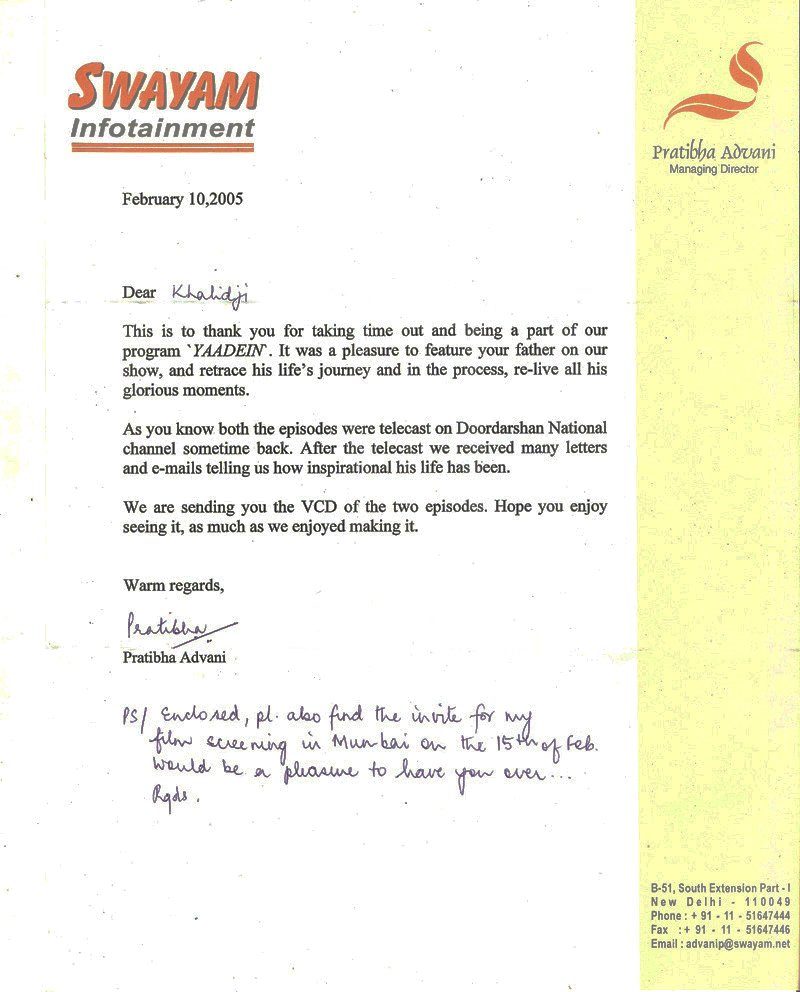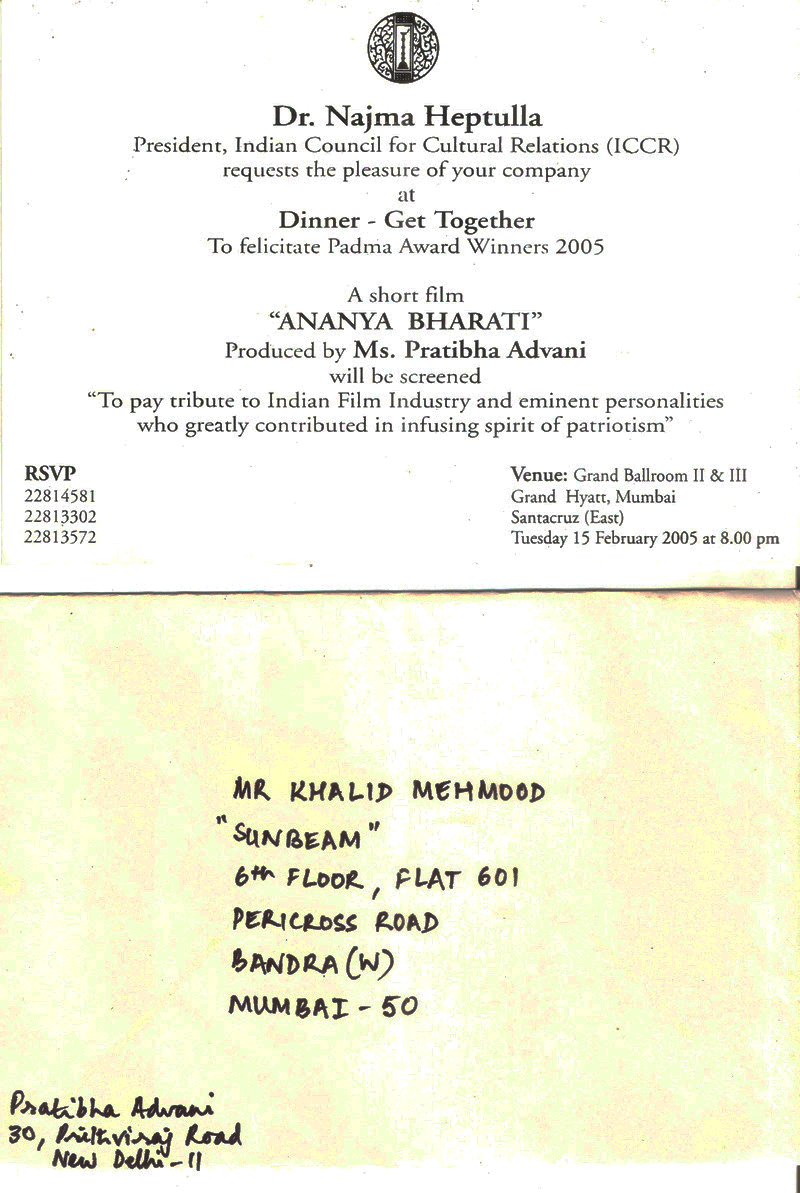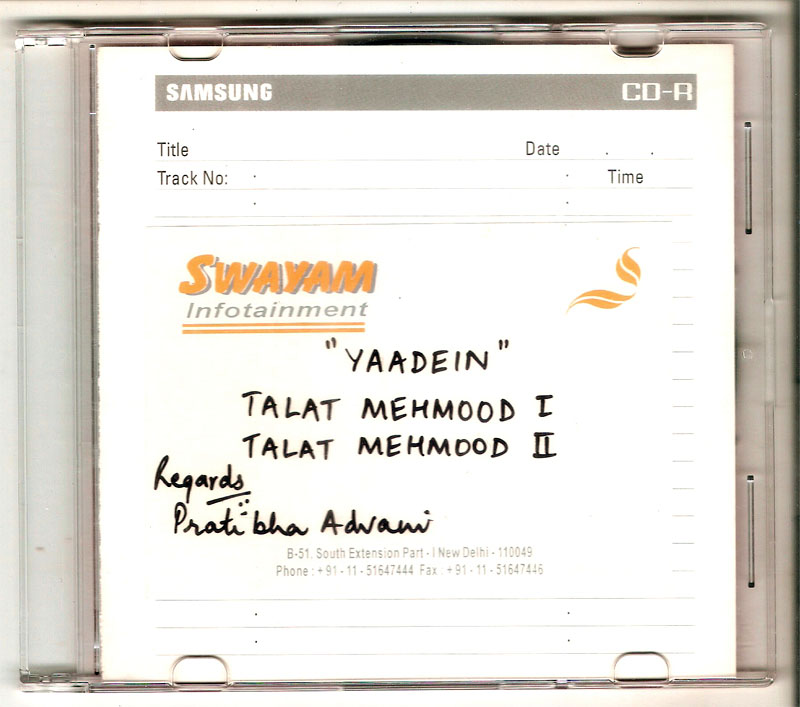 WATCH VIDEO!
Shri L.K. ADVANI ji' s daughter PRATIBHA ADVANI who
is a huge fan of TALAT MAHMOOD produces and comperes
this lovely video documentary which aired on all TV channels!
CLICK HERE AND WATCH 1 hr VIDEO "YAADEN"
---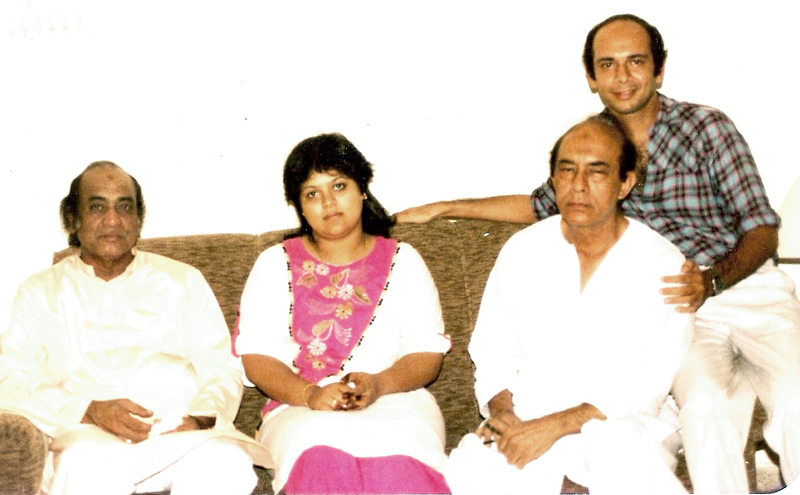 FROM LEFT: MEHDI HASSAN, KHALID's WIFE ISHA, TALAT MAHMOOD AND KHALID
Khalid Talat Mahmood is definitely the envy of music fans. Being a Star-Son he is
privileged to hobnob with the greatest and biggest names in the world! Here, Khalid
and his wife Isha, are overjoyed, when ghazal great Mehdi Hassan who has revered
and respected Talat all his life, decided to drop in to pay his respects and spend
some time with the greatest name in ghazals - Talat Mahmood!

---
FRONT PAGE NEWS IN LONDON!!!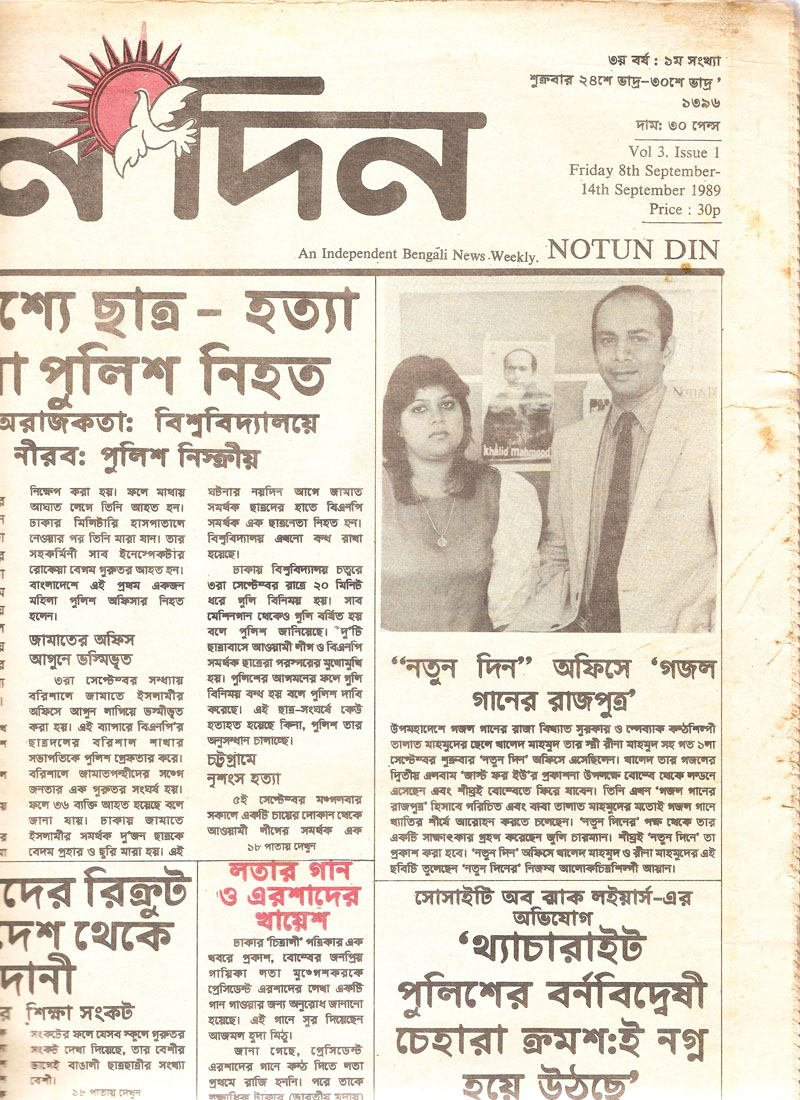 FRONT PAGE NEWS IN LONDON!
KHALID's ARRIVAL IN LONDON (WITH HIS WIFE ISHA) FOR THE RELEASE
OF HIS SMASH HIT ALBUM "JUST FOR YOU" AND A FOLLOW-UP CONCERT
TOUR OF ENGLAND MAKES FRONT PAGE NEWS IN ALL OF LONDON'S
BIGGEST SELLING ETHNIC LANGUAGE NEWSPAPERS!
---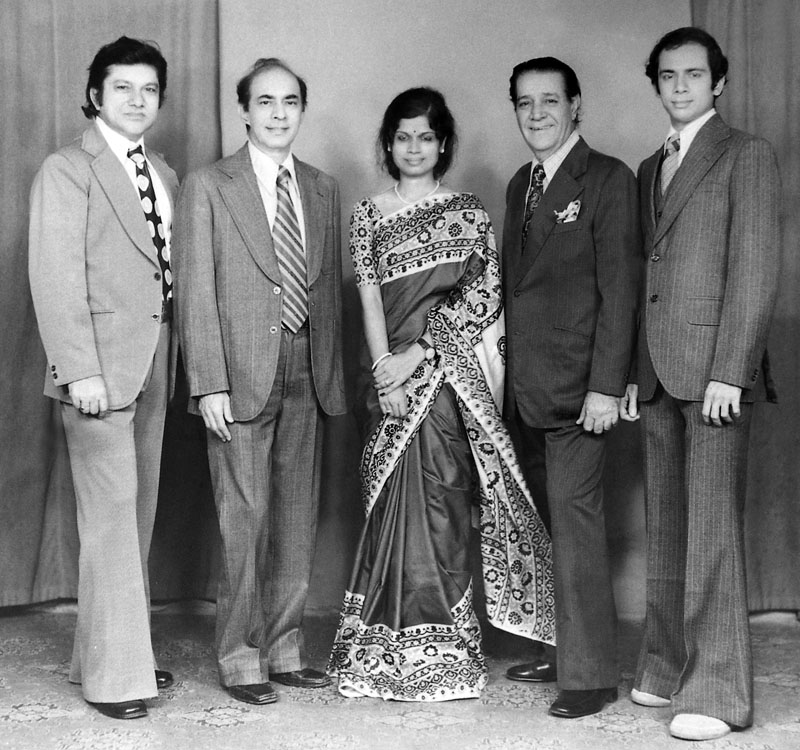 FROM LEFT: VAN SHIPLEY, TALAT MAHMOOD, SINGER SHOBHA JOSHI, AGHA, and TALAT's SON KHALID

TALAT MAHMOOD's SELL-OUT 1983 USA CONCERT TOUR PUBLICITY
PHOTO WHICH APPEARED IN ALL THE MAGAZINES AND
NEWSPAPERS AROUND THE WORLD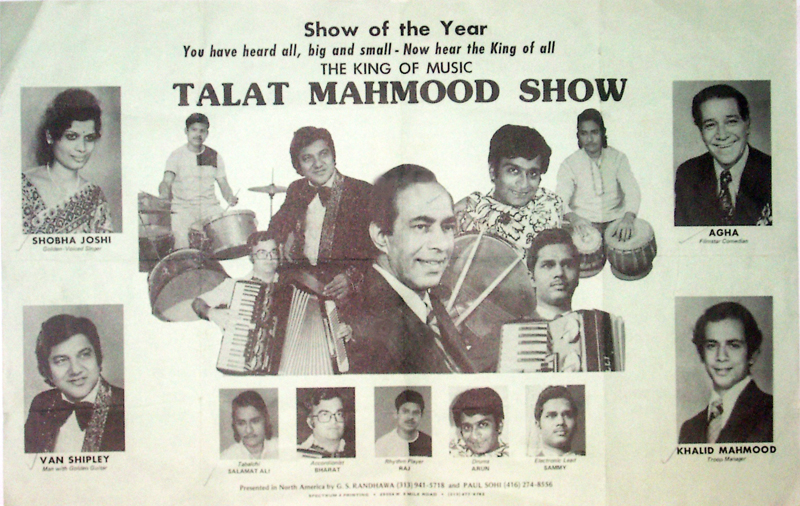 ---
Is the godfather of the film industry offering KHALID a film role???
No...! Just KHALID TALAT MAHMOOD with close family friend FILM DIRECTOR NITIN BOSE, whose credits include the great Dilip Kumar's magnum opus "Ganga Jamuna", and Talat Mahmood's silver jubilee hit "WARIS"! Nitin Bose is credited as the first director who introduced the concept of playback singing in Indian films 1935 in "Bhagya Chakra"!
---
Because of the keen interest shown by fans, Talat's singer son KHALID soon became a part
of every "TALAT MAHMOOD SHOW" with his own seperate STAR BILLING!!!


New York's 'DAILY NEWS', then America's third largest selling newspaper of 3 million
copies a day, sponsored Talat's New York concert!!!

---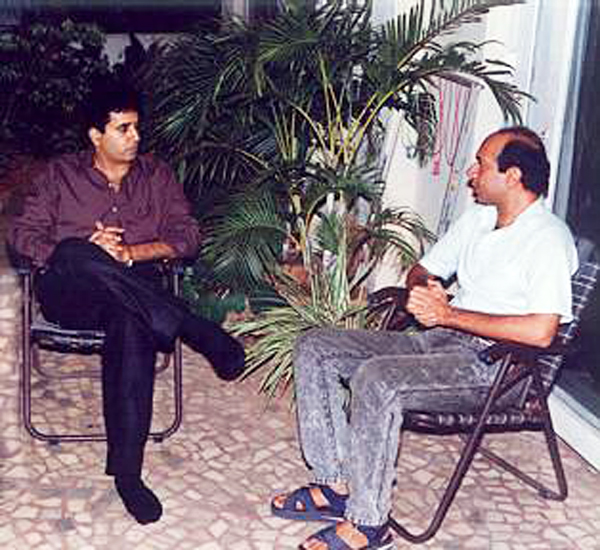 MINISTER FOR EXCISE, FOOD & DRUG ADMINISTRATION ANIL DESHMUKH
PAYS A CONDOLENCE VISIT TO KHALID'S HOUSE AFTER THE PASSING
AWAY OF HIS LEGENDARY FATHER
---
BBC, LONDON, HONOURS KHALID!!!
Khalid outside the BBC STUDIOS LONDON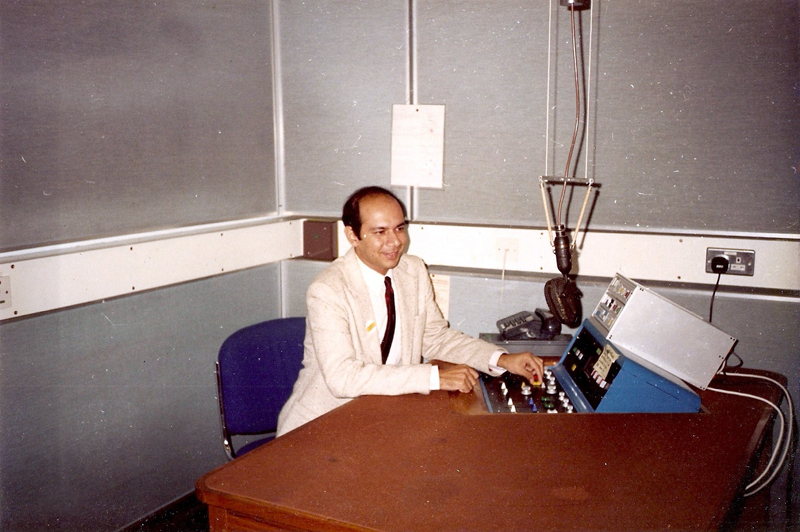 Khalid inside the BBC STUDIOS LONDON recording interview
BBC Radio honours Khalid Mahmood by recording a 1 hour Special. The 1 Hour Specials are conducted only for the
topmost ranking world class artistes and Khalid Mahmood is proud to be ranked by BBC as one amongst the best!
Flanking Khalid Mahmood are well known Talk Show hosts Zeb Qureshi and Kanwal Qazi of BBC.
BBC's producer of the 1 Hour Special Saima Amreen seems happy with the results! This 1 Hour Special
is broadcast all around the world and is now also available on the internet and reaches practically every
home interested in Asian music around the world.
KHALID, inspite of being the scion of legendary singer TALAT MAHMOOD, did not tread the beaten path
and instead opted to blaze his own trail!!!
Recognising this new talent and new trend, BBC London, the worlds largest and most respected network,
interviewing KHALID for his album release "KING OF HEARTS", (ghazals with western music back-up
for the first time), put aside protocol, on the insistence of nearly 400,000 requests worldwide and played
Khalid's songs in their TALK ONLY show!

---
---
This photo was given to Talat's son Khalid in Oct.2012 by Mohd Rafi sahab's Son In Law
Firoz Ahmed who lives and works in Saudi Arabia with this comment:
"Salam Khalid bhai....found a touching pic of Talat sahab at Nana abba's janaza." ________________________________
At the 'janaza' ( July 31st. 1980 ) of singing colleague Mohd Rafi, Talat, who is overcome
with emotions, bends down and kisses the forehead of his departed friend. The half legs
seen behind in this photo are that of Talat's son Khalid who had accompanied his father
to pay his respects and offer prayers too.
---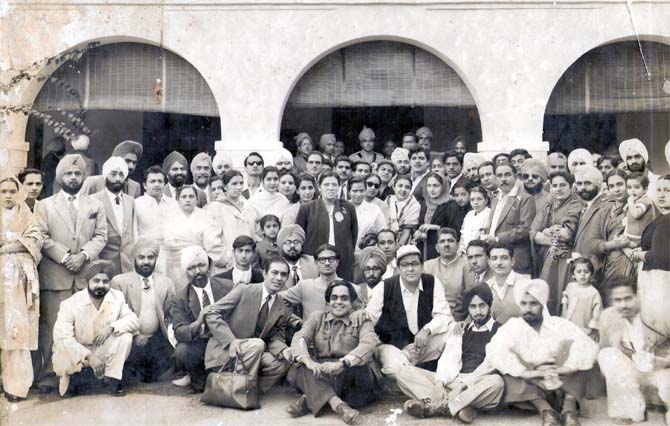 At a reception in honour of Talat by the Maharani Of Patiala. (Talat is in foreground with bag)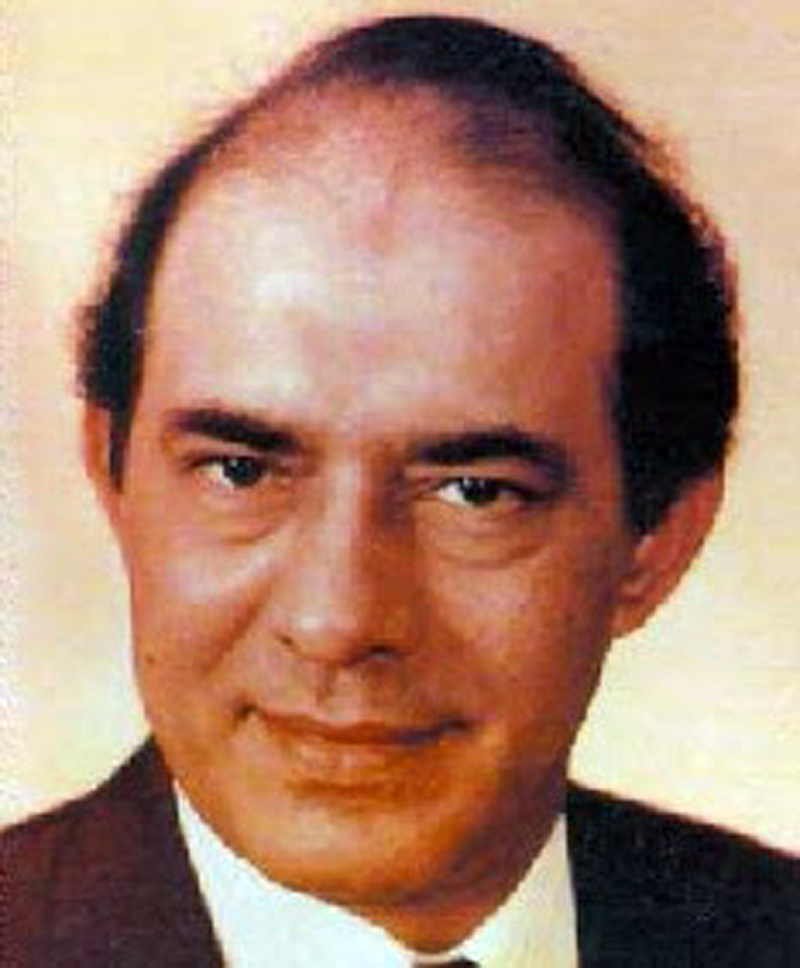 TALAT MAHMOOD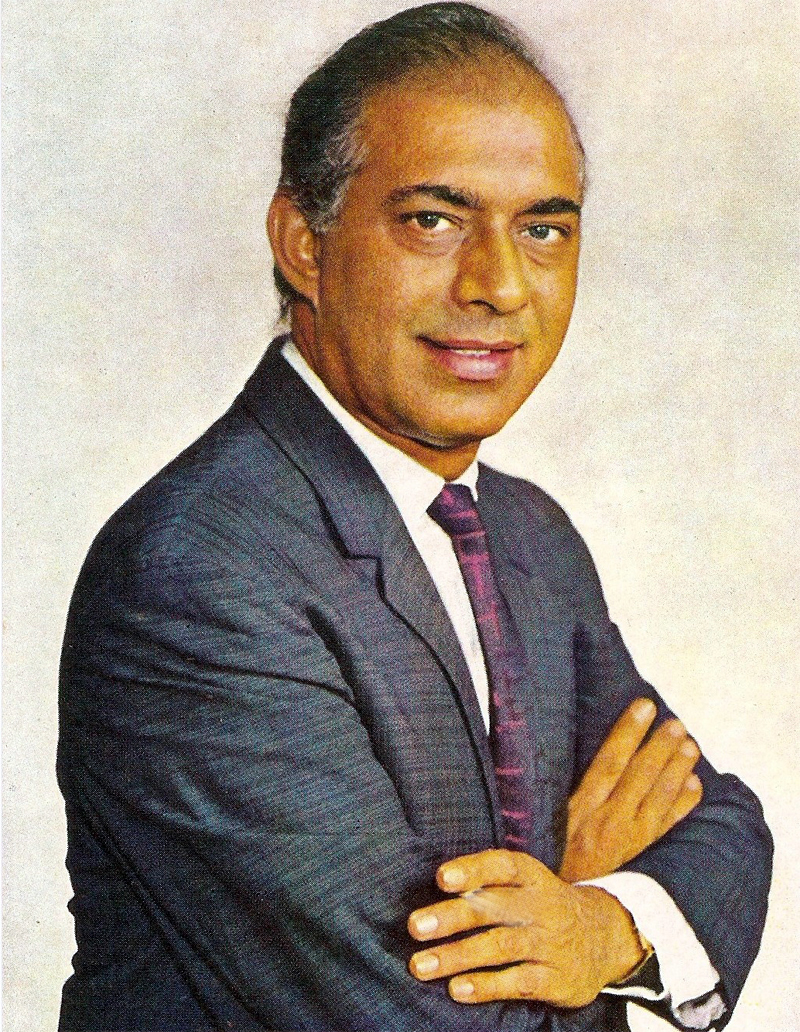 TALAT MAHMOOD
TALAT MAHMOOD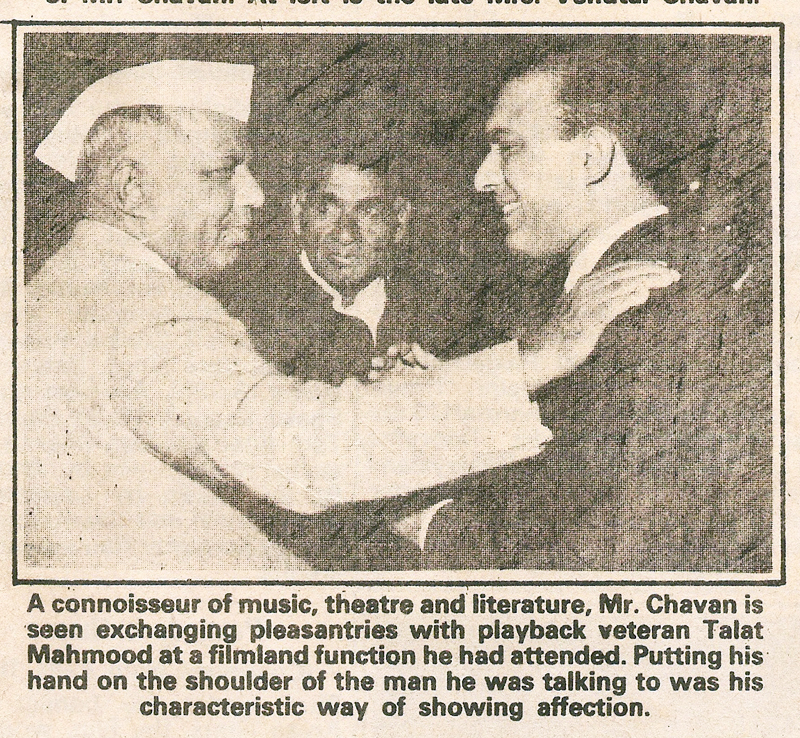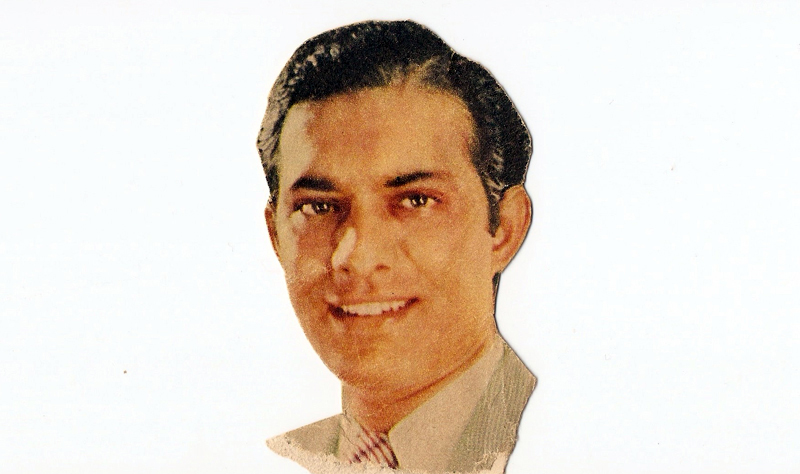 TALAT MAHMOOD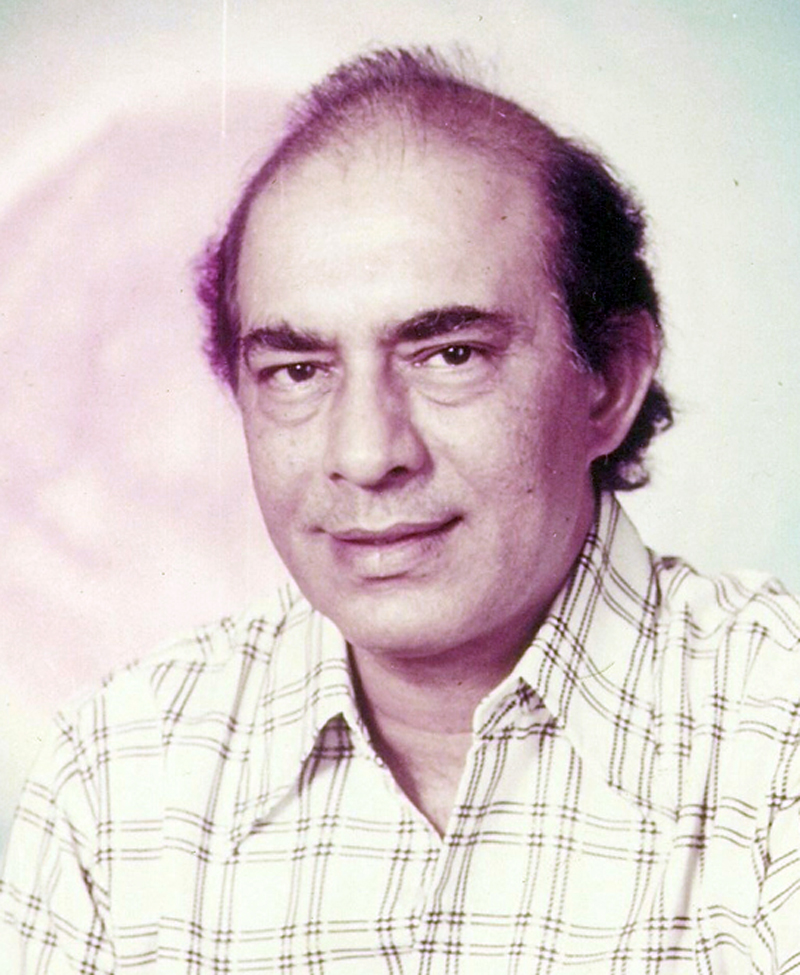 TALAT MAHMOOD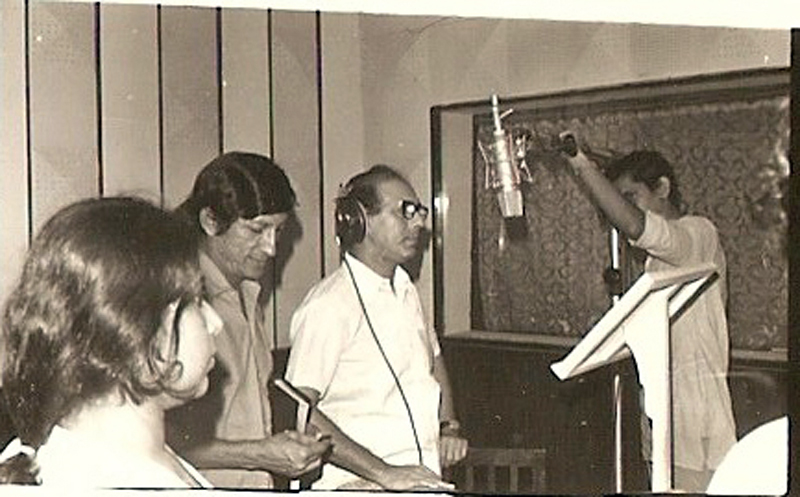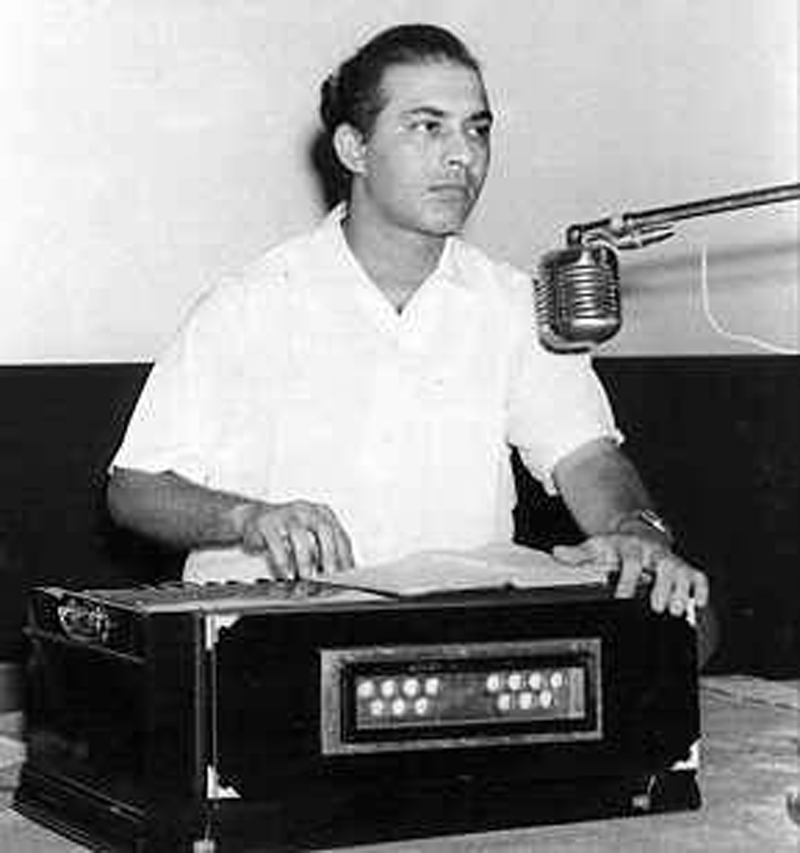 TALAT MAHMOOD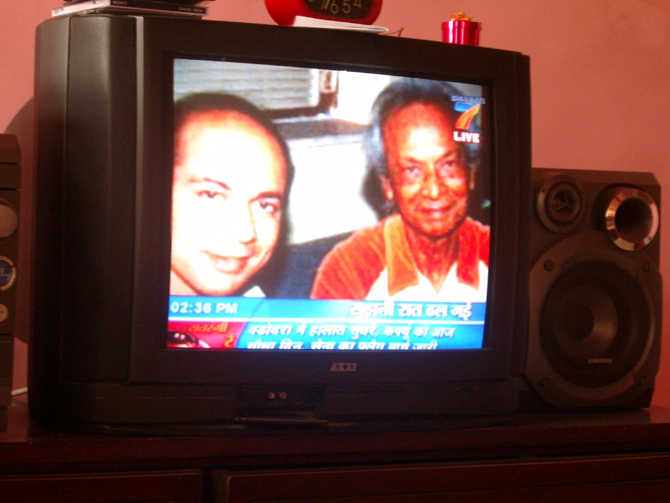 On the day Music Director NAUSHAD ALI passed away, Television channels kept showing this photo of
KHALID TALAT MAHMOOD with NAUSHAD ALI in the NEWS thru the day!
TALAT MAHMOOD IN ENGLAND AFTER A CONCERT IS PHOTOGRAPHED WITH FANS.
TALAT's SON KHALID IS ON THE LEFT (IN BLUE SUIT)
TALAT MAHMOOD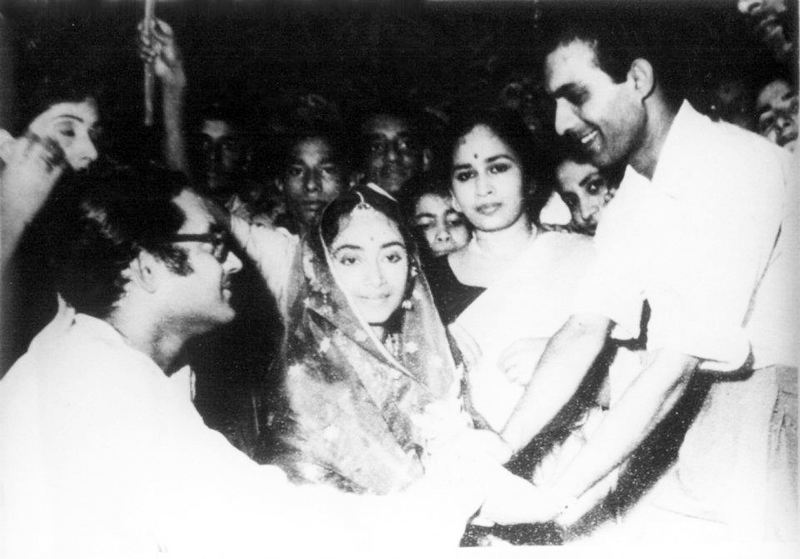 TALAT MAHMOOD congratulating GURU DUTT & GEETA DUTT at their marriage reception!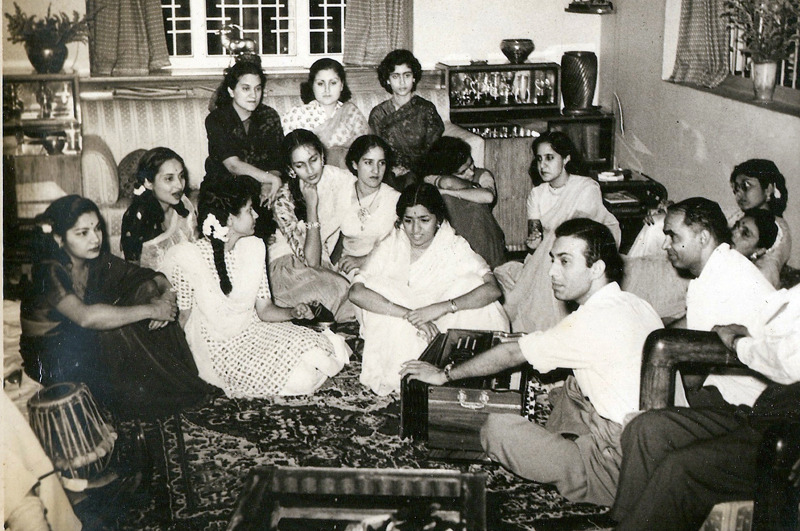 At a party at Music Director ANIL BISWAS' ("Bhishma Pitama" of film industry) house, guess who is listening in
rapt attention to the silken voiced Talat Mahmood? None other than the nightingale Lata Mangeshkar (in white sari)
and actress Nutan amongst other celebrities, like Dilip Kumar's sisters and others.
Anil Biswas who has introduced and mentored many singers, has said in many interviews that
"I have given breaks to many singers and they have all given their fair share of flop songs to me, except Talat Mahmood,
All songs sung by Talat Mahmood for me are hits. Not a single song sung by Talat for me, has flopped!"
TALAT MAHMOOD WITH MANNA DEY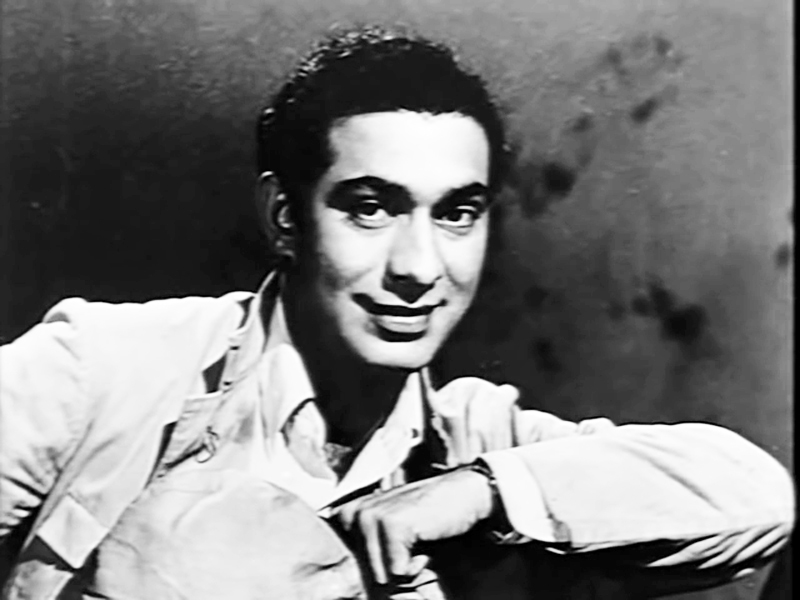 TALAT MAHMOOD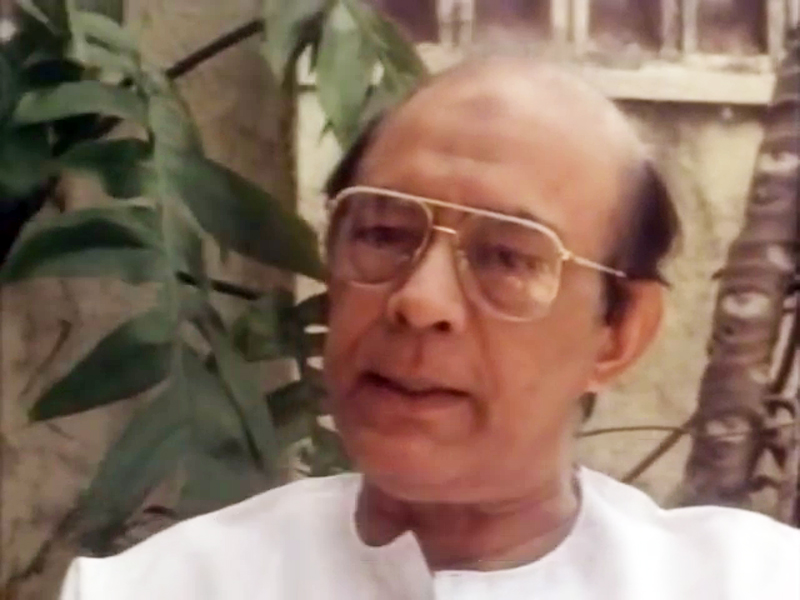 TALAT MAHMOOD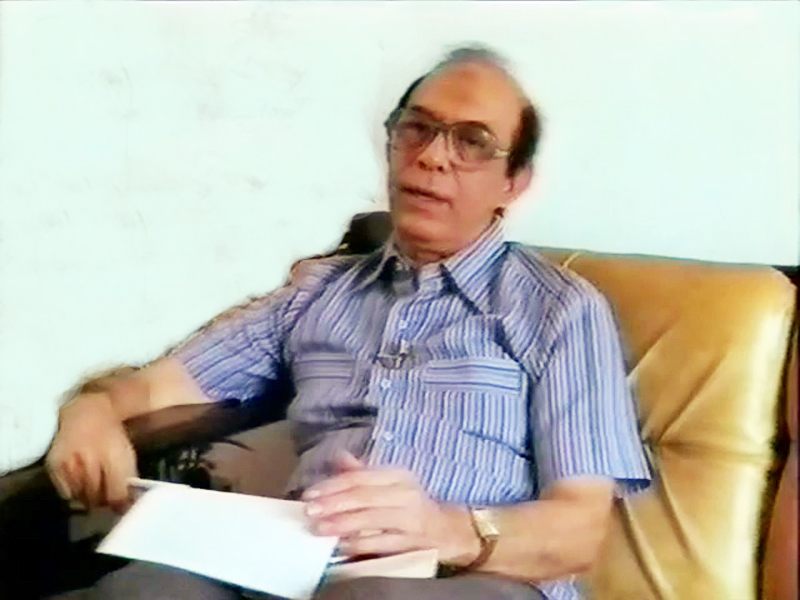 TALAT MAHMOOD
EXCLUSIVE PHOTO !!!
'KING OF GHAZALS' & SINGING STAR TALAT MAHMOOD PHOTOGRAPHED DURING
AN EXCLUSIVE INTERVIEW BY England's Channel 4 TELEVISION CHANNEL
(at his posh residence in BANDRA - MUMBAI)
TALAT MAHMOOD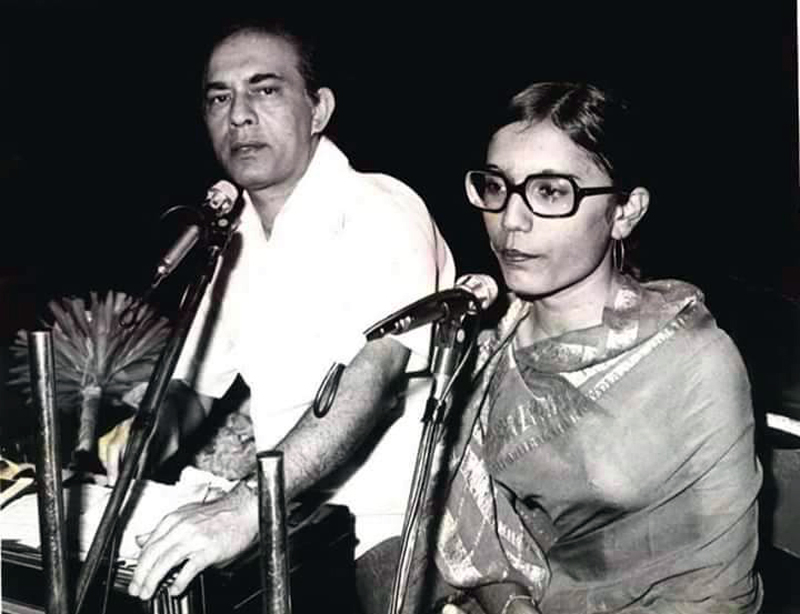 TALAT MAHMOOD ON STAGE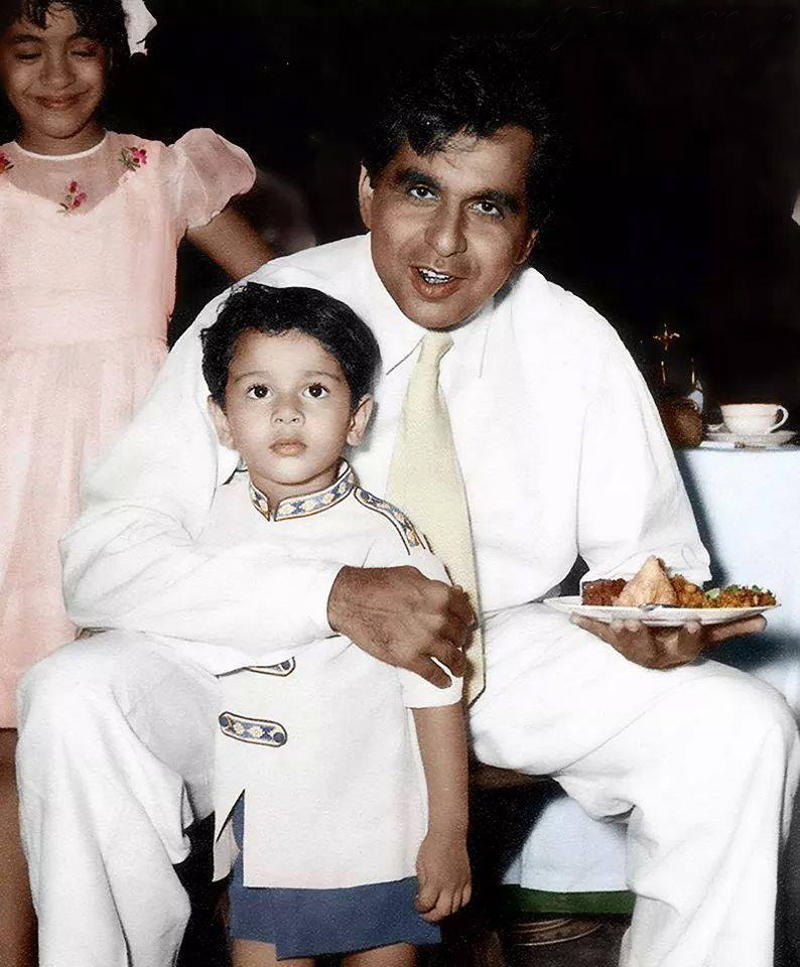 At the 4th birthday party hosted by TALAT MAHMOOD for his son KHALID, attended by the who-is-who of Indian society, Little KHALID gets pampered by the likes of DILIP KUMAR – the greatest ever star of Indian Cinema!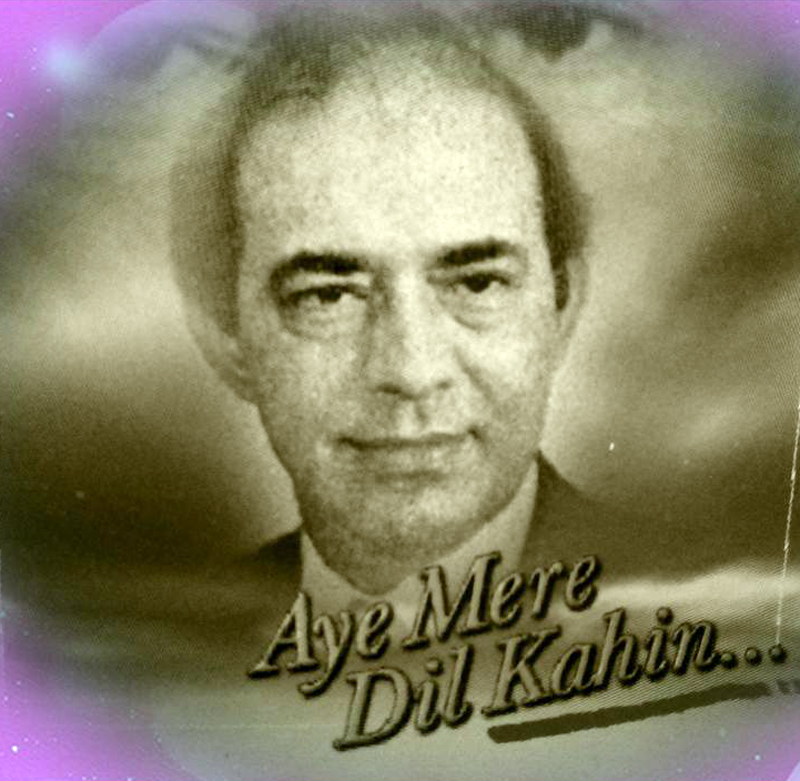 TALAT MAHMOOD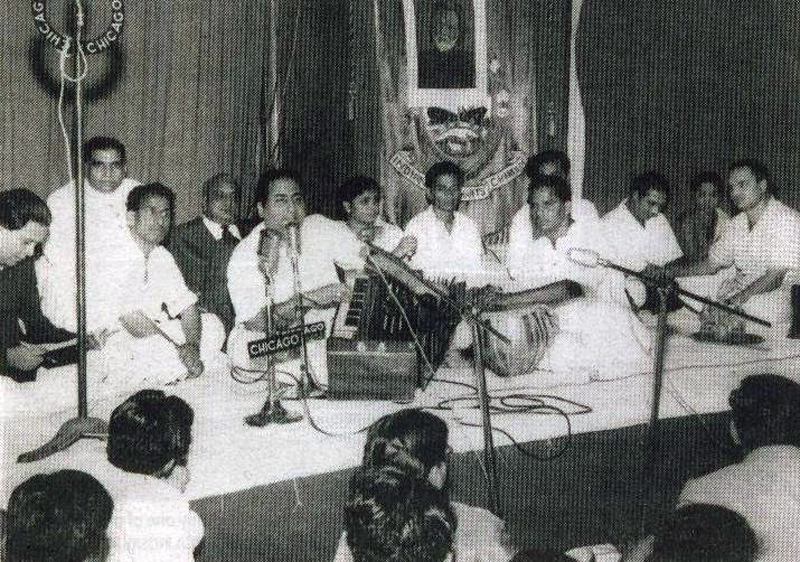 Talat Mahmood, Mukesh and Mohd Rafi on stage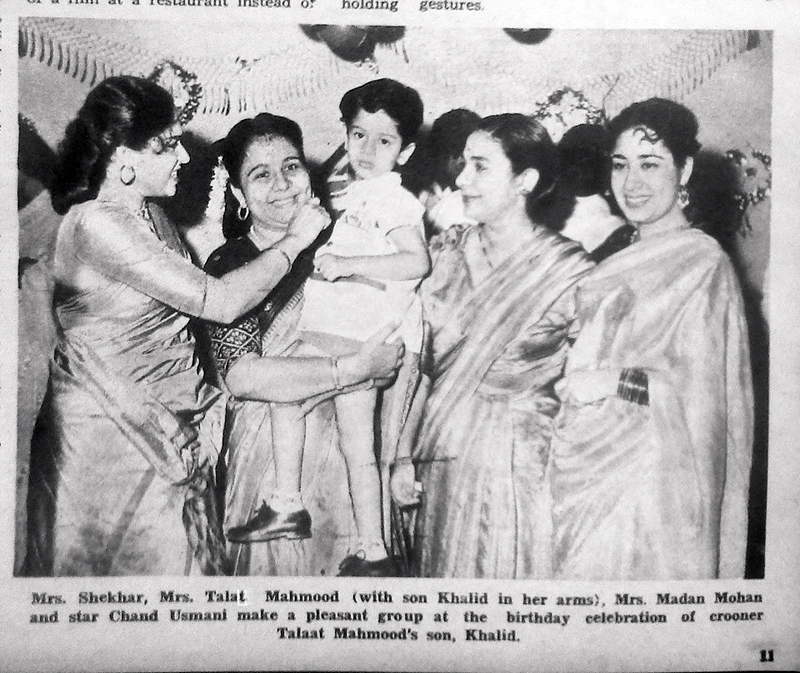 PRESS WRITES ABOUT KHALID'S MAHMOOD'S 4TH BIRTHDAY!!!
Geetashree Sandhya Mukherjee, Geeta Dutt, Talat Mahmood, Supriti Ghosh, Pabitra Mitra,
Lata Mangeshkar, Utpala Sen, Nachiketa Ghosh and Mohammad Rafi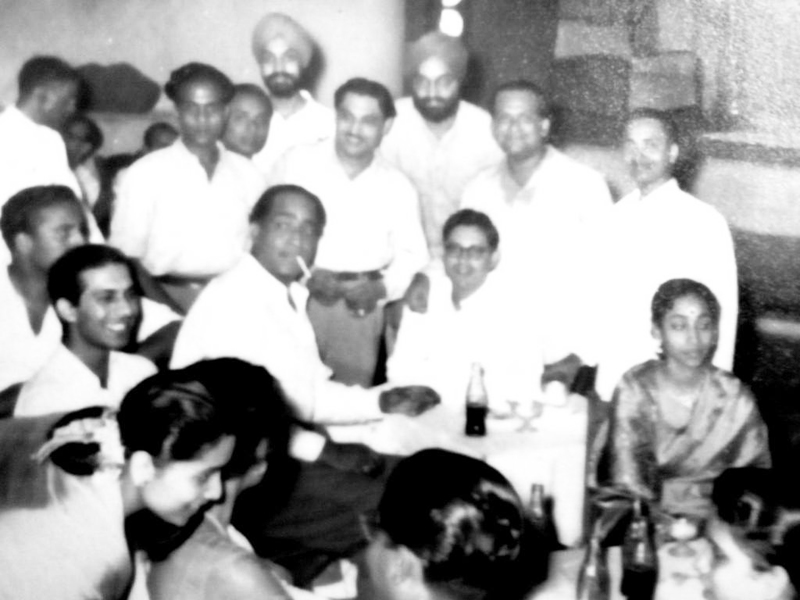 Talat Mahmood, KN Singh, Geeta-Dutt and Guru-Dutt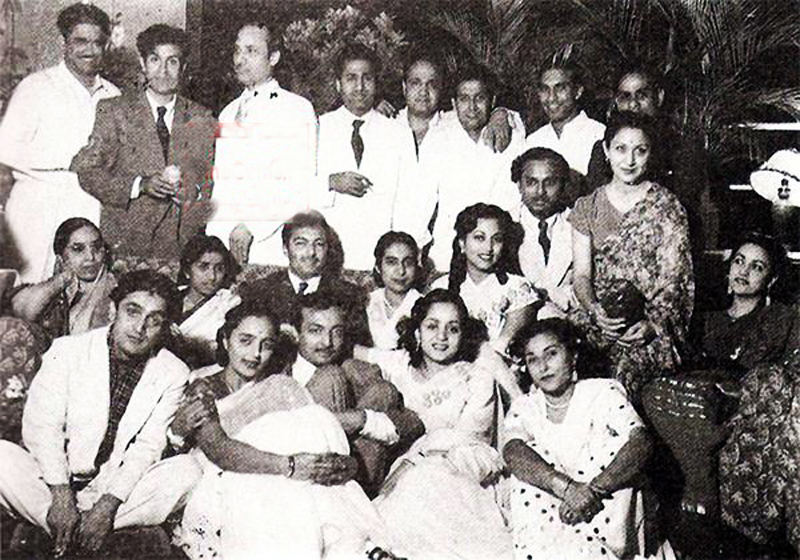 JOINING IN THE REVELRY AT BEST FRIEND MADAN MOHAN'S MARRIAGE RECEPTION,
YOU CAN SPOT TALAT MAHMOOD ALONG WITH LATA MANGESHKAR, SURAIYA, ANIL BISWAS,
C. RAMCHANDER, OM PRAKASH and NASEEM and others!


Lata Mangeshkar, Talat Mahmood, Mukesh, Kishore Kumar, Mohd Rafi and others in a skit organised by the film industry


In 1979 'KING OF GHAZALS', SINGING STAR, PADMABHUSHAN RECIPIENT TALAT MAHMOOD
RECORDED 6 OF HIS SUPER HITS FOR BBC's Pebble Mill Studios in Birmingham!
WATCH ALL THE 6 SONGS BELOW (CLICK ON THE LINKS BELOW THE SONG NAME)

(BBC 6 of 6) TALAT MAHMOOD sings Rahi Matwale WARIS at BBC's Pebble Mill Studios
https://youtu.be/tP4aGTHBMQE

(BBC 5 of 6) TALAT MAHMOOD sings Meri Yaad Men MADHOSH at BBC's Pebble Mill Studios
https://youtu.be/blidi7DvqOw

(BBC 4 of 6) TALAT MAHMOOD sings Jalte Hain Jiske SUJATA at BBC's Pebble Mill Studios
https://youtu.be/0BN0TGX4HqMss

(BBC 3 of 6) TALAT MAHMOOD sings Hain Sabse Madhur PATITA at BBC's Pebble Mill Studios
https://youtu.be/vbZxgJW8CeU

(BBC 2 of 6) TALAT MAHMOOD sings Aye meri jaane ghazal NIGAH E KARAM at BBC's Pebble Mill Studios
https://youtu.be/Lygxvyax1-0

(BBC 1 OF 6 ) TALAT MAHMOOD sings BECHAIN NAZAR Film YASMEEN at BBC's Pebble Mill Studios
https://youtu.be/NPY5AN7SByE